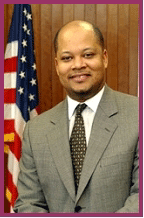 Former HUD Chief of Staff Robert L. Woodson, Jr.

On June 29, 2005, HUD Secretary Alphonso Jackson announced 14 winners of the first annual Robert L. Woodson, Jr. Award. Named in honor of the former Department Chief of Staff, HUD is making this award to recognize communities that have taken on a leadership role in the effort to increase access to affordable housing for American families through regulatory reform. Each of the Woodson Award recipients has demonstrated creativity and institutional foresight in arriving at reforms that are bringing about an increased supply of affordable housing in their respective jurisdictions. Strategies employed by the winning localities most often involve multiple reforms that are part of a larger strategy of regulatory barrier removal.

According to Secretary Jackson, "It's important to recognize and reward communities that assume a leadership role in encouraging the production of affordable housing." He went on to say that, "Across this great nation, local communities are removing barriers to affordable housing and opening more doors to homeownership for hard working families."

These awards are being granted through the America's Affordable Communities Initiative (AACI), which was launched by HUD in June 2003. Many of the winning reform strategies and cost containment practices can be found right here on HUD's Regulatory Barriers Clearinghouse (www.regbarriers.org).

Reform Gets Affordable Housing on the Ground

As a result of reducing unnecessary and inhibitive regulations, the Robert L. Woodson, Jr. Award communities have all seen dramatic increases in affordable housing construction. Within the 14 winning communities, nearly 14,000 affordably priced units have been completed since the inception of their respective regulatory reform programs. Many communities increased their development of affordable housing by as much as 40 percent. Since its program's inception in 2001, Austin, Texas has completed almost 4,000 affordably priced single- and multi-family units. Through its regulatory reforms, Carolina, Puerto Rico increased its affordable housing production from 400 units between 1992 and 2000 to 1,000 units between 2001 and 2004. In Santa Fe, New Mexico, nearly 16 percent of all new homes built in the last decade were affordable, while in Grand Forks, North Dakota, 57 percent of the new developments since 2002 have met affordable housing target prices. Many of the new affordable developments were built by the private sector with only local regulatory and related incentives.




Austin, Texas
Carolina, Puerto Rico
Chicago, Illinois
Cincinnati, Ohio
Town of Corte Madera, California
Fitzgerald, Georgia
Fort Collins, Colorado
Representing eleven states and one U.S. territory, the 14 winners reflect a broad spectrum of America's communities. The winning communities vary in size from just 9,000 people to more than 3 million people. Local median incomes vary from roughly $26,000 to $100,000 a year, and median house values differ from approximately $52,000 to close to one million dollars. Ranging from densely populated urban and metropolitan areas to small towns in wealthy suburban counties to small cities in rural areas, the communities honored by these awards reflect a true cross-section of the American demographic.
Each community initiated a variety of regulatory reforms to address different issues, but the award recipients all shared one common problem: a lack of affordable housing for their growing populations. Many communities, such as Austin, San Antonio, Chicago, Orlando, and Oxnard (a fast-growing county outside of Los Angeles) have faced a sharp increase in population, and were struggling to accommodate the increasing demand for housing. Others, such as Fitzgerald, GA and Cincinnati, OH were faced with decaying neighborhoods and older housing stock that needed significant investment in order to be repaired. The solutions implemented by these communities addressed their need to consolidate the permitting process into a "one stop" development center and revise outdated zoning standards. Recognizing that there was no single solution to the variety of housing needs faced in each community, many communities instituted a series of methods to address a wide range of issues.
This diversity of communities and reforms demonstrates that regulatory change is something that virtually any city can achieve. Regardless of size and economic status, these cities and counties have all succeeded in increasing affordable housing through regulatory reform.
Problems Addressed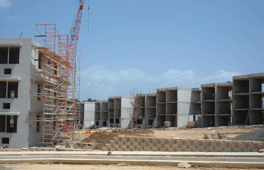 Multi-family housing construction in Carolin, Puerto Rico

In creating a regulatory environment that's conducive to affordable housing, each community faced its own underlying set of problems. For example, after devastating floods in 1997 in Grand Forks, ND city officials created a "tool box" of incentives to stimulate re-growth and the construction of affordable homes, using measures that included an infill program. The Town of Corte Madera, CA faced surging demand for new housing and soaring prices. Carolina, PR and King County, WA were dealing with slow permitting and review processes that hindered development and proved too restrictive. In Fort Collins, CO and Santa Fe, officials had already been working for over a decade to address regulatory barriers and affordable housing shortages. Following on the successes achieved through favorable changes in zoning policies and the creation of an affordable housing task force, both cities were looking for additional solutions to rising population and housing costs arising out of tourism and the increasing popularity of these areas as relocation destinations.

Types of Reforms Initiated

Many of the reforms that communities undertook fall into three broad categories:

Some communities also implemented the following changes:
Administrative Reforms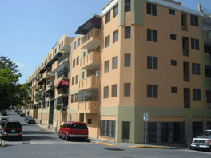 Affordable apartment building in Carolina, Puerto Rico

One of the most popular reforms undertaken by those submitting applications to the inaugural AACI Woodson Award competition in 2005 is administrative streamlining. Austin conducts fast-track reviews of proposed developments that feature affordable housing, and has a facilitation and resolution process to address any problems identified along the way. Carolina, PR restructured its planning and permitting process and established specific timetables for each approval. Cincinnati has a One-Stop Development Center to coordinate all permitting and processing, and to provide builders with a single point of contact. The city also has a cooperative pre-development meeting process that involves all agencies in the resolution of all development issues at one time.

Another multi-tiered approach can be found in The Town of Corte Madera, CA, where officials have streamlined the environmental review process, reduced permitting time for mixed-use projects, and decreased the amount of time needed to secure approval of accessory units.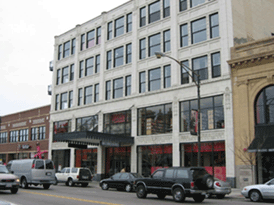 Affordable housing rehabilitation over commercial property in Chicago, Illinois

And in Fitzgerald, GA, there are flexible land development standards with streamlined approvals provided at the staff level. Fitzgerald has also implemented batch processing of building permits. Fort Collins, CO has priority processing for affordable housing developments, and has instituted a 120-day target date for final review. To further expedite the process, additional staff has been assigned to conduct conflict resolution in the development review process. Fort Collins now only requires "sketch plans" to make land use decisions.

Heading north, Grand Forks, ND has instituted flexible, easy to obtain zoning variances. King County, WA permits accessory units on all lots over 10,000 square feet, streamlined environmental requirements for small developments, and offers pre-approvals of commonly used house plans. Orlando implemented a public/private cooperative planning process for fast-track approval through the development review process. Oxnard, CA provides for development approvals at the administrative staff level if projects are consistent with the city's plans. Meanwhile, Santa Fe accelerates the processing of housing developments that include at least 25 percent affordably priced housing. And just north of New York City, White Plains has a coordinated review process chaired by the Mayor's Office in which all city departments conduct expedited reviews of proposed developments as a team.
Fee Waiver and Reduction Reforms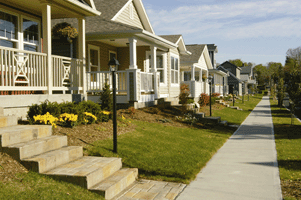 Affordable single-family subdivision in Cincinnati, Ohio

Another common thread shared by most of the communities winning awards this year has been reforms aimed at reducing the impact that local government fees have on the cost of developing affordable housing. Austin provides for fee waivers based on the amount of affordably priced housing in a given development proposal. Carolina, Chicago, and Fitzgerald waive permitting fees for affordable housing developments, while Corte Madera waives most fees for affordable housing created in their Affordable Housing Mixed Use District. Fort Collins delays the payment of impact fees until occupancy, and provides impact fee rebates – especially for affordable rental housing. It also provides inspection, right of way, and street cut fee exemptions for affordable development. Grand Forks waives the usual 50 percent developer contribution for infrastructure and defers special assessments imposed on buyers of affordable housing.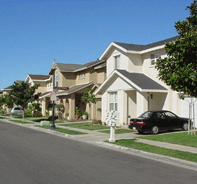 Single-family housing development in Oxnard, California

Orlando offers relief from a number of fees that the city normally requires, and provides for reimbursement of sewer and transportation fees to developers of affordable homes. It also provides major discounts on school impact fees and reduced transportation capacity fees for affordable homes. Orlando also reduces and, in some cases, waives land development fees.

Back on the West Coast, Oxnard waives or reduces most development fees for infill housing – regardless of income – and defers or waives development fees if a developer will agree to sell or lease 10 percent of the units to very low-income or 20 percent to low-income households. San Antonio waives impact fees on all the new affordable housing developments in specific neighborhoods and exempts these communities from building permit and platting fees. Santa Fe waives or reduces various impact, processing, and permitting fees for affordable housing developments. The city also exempts these developments from water utility expansion charges and related water utility building requirements.
Zoning and Land Use Reforms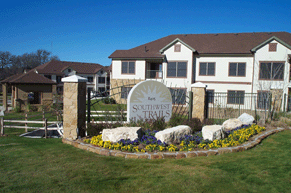 Southwest Trails Apartment Complex in Austin, Texas

Most of the winning communities have also adjusted local zoning code provisions to encourage the development of affordable housing, and have revised their development requirements to reduce costs. Austin reviews all proposed code amendments, rule changes, neighborhood plans, and development fees for their impact on housing affordability. Chicago offers density bonuses for affordable housing in Chicago's booming central area, and provides an array of incentives, including density bonuses for market rate condominium and townhouse developments that include affordably priced units for moderate-income families. Cincinnati has developed a new zoning code that allows 2,000 and 4,000 square foot lots in older neighborhoods, permits clustered housing, and provides for reduced requirements for side yards and setbacks.

Corte Madera created an Affordable Housing Mixed Use District where the city can triple maximum densities, reduce parking requirements, and increase commercial space in buildings with affordable housing. Other reforms incorporated in the Corte Madera code include a high density land designation that permits 25 dwelling units per acre, three high density zones requiring that 50 percent of units be affordable, and reduced parking standards for all affordable housing. Fitzgerald allows manufactured housing (as of right) in most residential districts, subject to site and design standards, and waives or adjusts setback, side, and other development standards. Fitzgerald allows manufactured housing, as of right, in most residential districts, subject to site and design standards, and waives or adjusts, as needed, setback, side and other development standards. Fort Collins provides density bonuses and reduces builder bonding and landscaping requirements for affordable housing. It also allows reductions of street widths, right-of-way, and sidewalk widths. Grand Forks offers relaxed land development requirements by requiring narrower road widths and road right of way dedications. The city has also reduced minimum lots sizes.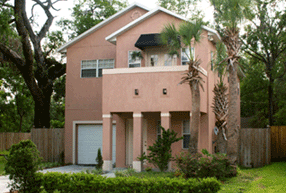 Single-family house in Orlando, florida
In Washington State, King County has instituted a number of land use reforms. The county has eliminated most minimum lot sizes and has established a unique requirement for minimum densities. It also now allows multifamily housing in many formerly single-family residential areas and mixed uses in many residential areas. The county also revised the county's zoning ordinance to provide for townhomes, zero-lot-line development, and small cottage housing.
Orlando provides density bonuses for affordable housing and now has flexible, less costly land development standards. Oxnard provides density bonuses in exchange for the provision of affordable housing, and waives or adjusts development standards if a significant number of lower income housing units are part of the development. San Antonio and Santa Fe grant density bonuses for the development of affordably priced housing. Santa Fe has also reduced lot sizes, increased lot coverage, and provided greater opportunities for appropriately designed HUD-Code housing. The city also eased code requirements to allow accessory units. On a similar tack, White Plains has enacted a comprehensive reform of its zoning ordinance with height and density incentives available throughout the city for both "workforce" and "below middle-income" housing and doubled allowable densities for low-income housing in targeted neighborhoods. To further encourage affordable home production, White Plains has also modified its building codes to reduce costs.
Tax Reform Policies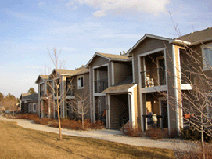 Multifamily housing development in Fort Collins, Colorado
Two of the communities that won awards during the first AACI process used local tax policies to promote the development of affordable housing. Fort Collins provides sales and use tax rebates on materials to affordable housing builders. Grand Forks has a two-year property tax exemption for the first $75,000 of value and a three-year property tax exemption for increased values from rehabilitation.
Land Utilization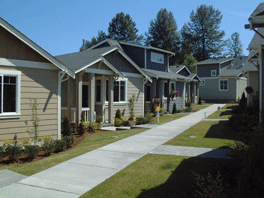 Single-family housing development in King County, Washington

In addition to reforming regulations to promote the development of affordable housing, several of the winning communities have provided public property to developers who would create affordable housing. Austin makes surplus, city-owned land available to a non-profit housing organization at below-market rates for the development of affordably priced housing. Carolina has an inventory of all available Commonwealth and city-owned land, and releases some of this land to lower development costs. Fitzgerald uses redevelopment authority to clear and assemble infill sites for redevelopment, and San Antonio uses surplus land for affordable home construction.
Supplemental Programs
Several cities augmented their regulatory reform actions with other city activities. Austin facilitates dialogue between neighborhood groups and affordable housing developers for proposals requiring zoning changes, thereby promoting early identification and resolution of concerns and issues. Carolina now uses "design–build" bids for city-built housing, resulting in significant savings for this type of affordable construction. Fort Collins has a major affordable housing marketing effort, and has empanelled an Affordable Housing Board to recommend new reform efforts.
Conclusion
Recognized by HUD's Secretary Alphonso Jackson, the 14 communities that have received the Robert L. Woodson, Jr. Award are leading the nation by adopting creative and effective methods of reducing the impact that state and local regulatory barriers have on the cost of providing affordable housing.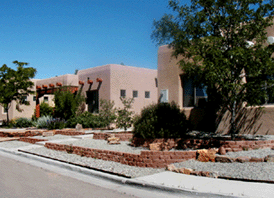 Single-family housing development in
Santa Fe, New Mexico.

These model communities have eliminated regulatory barriers by eradicating repetitive and time-consuming review and approval processes; they have redrawn out-of-date building codes and zoning ordinances; enacted codes that encourage (rather than hinder) rehabilitation; and have waived some of the fees that can drive housing costs skyward. By their good examples, these communities have made great strides in discouraging NIMBYism and exclusionary thinking in neighborhoods of widely divergent social and economic configurations. Their successes can be measured in terms of the new and rehabilitated affordable housing that their efforts have yielded, and in the extraordinary examples they have set for other communities to follow.
Sharing Your Experiences
If you have similar experiences or successful barrier reduction strategies, we'd love to hear from you. Please call 1-800-245-2691, option 4, or send us an email at rbcsubmit@huduser.gov