Strategy of the Month: 9 Steps Toward Green
April 2011
The majority of our nation's affordable housing stock consists of older and less energy-efficient homes. As the housing stock continues to age, more repairs are needed to ensure that low-income families reside in decent, safe, and affordable homes. However, renovating these older buildings to improve both quality and sustainability can be an expensive and complex process. To assist property managers and other affordable housing professionals in retrofitting affordable housing with green features, the Local Initiatives Support Corporation (LISC) released the guide, 9 Steps Towards Green: Introducing Sustainability to Affordable Housing on a Limited Budget. The guide provides information on budget-saving affordable housing retrofits that also incorporate techniques for reducing energy use, lowering utility bills, and improving indoor air quality.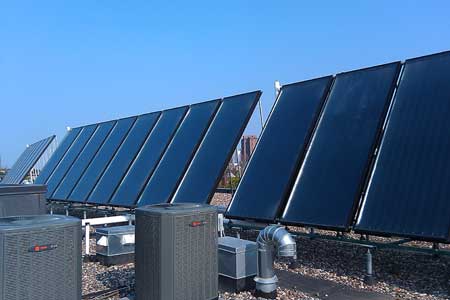 The first step outlined in the guide is to use online energy management tools, such as the U.S. Environmental Protection Agency's Portfolio Manager, to track a property's average amount of energy and water usage. This information will help property owners/managers assess priorities and create an action plan for the retrofit process. Next, the authors recommend replacing incandescent light bulbs with compact fluorescent lamps (CFLs) to lower electricity use and maintenance costs — CFLs are more efficient, using 75 percent less power and also have a longer rated life than incandescent light bulbs. Upgrading plumbing fixtures and performing regular tune-ups of hot water and HVAC systems will also result in significant energy and cost savings. Other strategies discussed in this publication include performing energy audits and educating tenants about energy conservation. For each recommendation, the LISC guide includes information on the cost of implementation and also when the owner/manager can expect to see a return on her investment.
For additional details and a link to the guide, please visit https://www.huduser.gov/rbc/search/rbcdetails.asp?DocId=2136.
We hope this information will assist communities as they continue to look for ways to promote sustainable affordable housing. If you have successfully implemented affordable housing programs of any kind, would like to share resources, or require assistance in identifying additional policy tools, research, or strategies available through our searchable online Clearinghouse database, email us at rbcsumbit@huduser.gov, or call us at 1-800-245-2691 (option 4), or visit our website at www.regbarriers.org.
Feel free to forward this message to friends and colleagues with an interest in affordable housing.