Strategy of the Month: Mixed-Income Housing Near Transit
June 2010
Although the real estate market has cooled within the past few years, housing continues to be out of reach for many Americans, especially those working within bustling urban areas. Many low-income families are forced to sacrifice proximity from home to work in search for housing that is more attainable. To address escalating transportation costs, which now represent most families' second-largest household expense, the Center for Transit-Oriented Development has released the report, Mixed-Income Housing Near Transit: Increasing Affordability with Location Efficiency. The report outlines the benefits of locating mixed-income housing within transit-oriented developments (TODs), and also highlights strategies for overcoming obstacles to its development.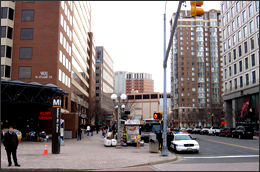 According to the report, soliciting community input when planning for TODs at the state or regional level may prevent unnecessary project delays and assist in developing streamlined approval processes. The state or region can promote mixed-income housing near transit by giving projects that incorporate a variety of housing types priority consideration for funding through the Low Income Housing Tax Credit program. Inclusionary and incentive-based zoning strategies are also recommended at the regional level to increase the development of mixed-income housing within TODs.
At the local level, the report recommends reducing parking requirements to significantly decrease development costs and open up space for other purposes, such as retail or daycare facilities to serve nearby residents. Including car-sharing facilities is one way a community can make parking reductions feasible. The report also proposes generating funds for mixed-income housing through programs such as tax increment financing and land banking.
Mixed-Income Housing Near Transit outlines a total of eleven strategies, each accompanied by a case study highlighting how the strategy has been successfully implemented in locations nationwide. To view the report in its entirety, please visit https://www.huduser.gov/portal/rbcrecord&DocId=1980.
We hope this information will assist communities as they continue to improve housing affordability through TOD. If you have successfully implemented regulatory reform measures, would like to share resources, or require assistance in identifying additional policy tools, research, or strategies for our web-based Clearinghouse database, email us at rbcsubmit@huduser.gov, or call us at 1-800-245-2691 (option 4), or visit our website at www.regbarriers.org.
Please consider forwarding this message to friends and colleagues with an interest in transit-oriented affordable housing.