---
A Newsletter From HUD USER, June 1996

How to Contact HUD USER

June 13-14. NHC 1996 Spring Convention, Washington, DC. Contact: National Housing Conference (202) 393-5772.
June 18-19. Fair Lending and Community Development Conference, Washington, DC. Contact: National Real Estate Development Center (301) 657-8220.
June 26-28. PHADA Annual Convention and Exposition, San Francisco, CA. Contact: Public Housing Authorities Directors Association (202) 546-5445.
---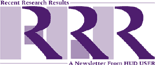 These pages contain borderless buttons. Clicking on the RRR logo at the end of any article will bring you back to this page. All highlighted text passages are active links and can be clicked on to move through the document. Clicking on the logo to the left will take you back to the RRR home page.