---
A Newsletter From HUD USER, October 1996

How to Contact HUD USER

October 20-22. NCSHA Annual Conference, Dallas, TX. Contact: National Council of State Housing Agencies (202) 624-7710.
October 27-30. MBAA 83rd Annual Meeting, San Francisco, CA. Contact: Mortgage Bankers Association of America (202) 861-6500.
November 7-8. Fall Policy Conference, Los Angeles, CA. Contact: National Housing Conference (202) 393-5772.
---


In the September/October issue of FieldWorks:

A Chattanooga hospital develops a homeownership plan for its employees.
SRO Housing in Chicago tailors services for formerly homeless adults.
The Atlanta Project involves corporations in inner-city neighborhoods.
Warren Village in Denver fosters self-sufficiency for low-income single parents.
Finding Internet resources on corporate-community involvement.
Upcoming events.
$15 for a 1-year subscription (six issues) or $2.50 per bimonthly issue. To order your subscription, please complete the online order form.

Or contact: HUD USER, P.O. Box 23268, Washington, D.C. 20026-3268

Call 1-800-245-2691

---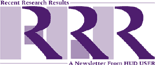 These pages contain borderless buttons. Clicking on the RRR logo at the end of any article will bring you back to this page. All highlighted text passages are active links and can be clicked on to move through the document. Clicking on the logo to the left will take you back to the RRR home page.