April 2013 |
Volume 2, Issue 2
IN THIS ISSUE:
Green Infrastructure Aims to Reshape Philadelphia
Grantee Spotlight: Planning for Livable Military Communities
Connecting Affordable Housing and Public Transportation in Los Angeles
Energy-Efficiency Program Targets Affordable Housing Preservation

---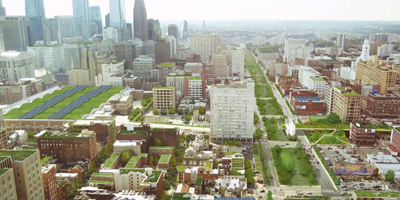 The Green City, Clean Waters program has the potential to dramatically change the built environment in Philadelphia, while protecting vital water resources. Image courtesy of Philadelphia Water Department.Infrastructure is vital to urban, suburban, and rural communities. Roads and highways move vehicles and fleets, transmission lines distribute electricity, sanitary sewer systems remove wastewater to safeguard public health, and stormwater systems prevent roads and homes from flooding. However, much of the infrastructure in the United States was built without considering relationships between the built and natural environments or, more specifically, the consequences of urban development on water resources. For residents of many older communities in the Northeast and Upper Midwest served by a combined sewer system (CSS), these relationships are all too apparent when heavy rains cause combined systems to overflow, discharging untreated sewage and stormwater into local waters.
In response to the threat that combined sewer overflows (CSOs) pose to water quality and public health, the U.S. Environmental Protection Agency (EPA) published the Combined Sewer Overflow Control Policy in 1994. This policy created a national framework for addressing CSOs through the National Pollutant Discharge Elimination System permit program. Still, communities continue to release billions of gallons of untreated sewage and stormwater while struggling to finance improvements to traditional gray infrastructure systems.
In 2012, the city of Philadelphia, Pennsylvania adopted a landmark program that could change the direction of infrastructure investments made in CSO-affected communities across the country. Informed by years of watershed-based planning, the Philadelphia Water Department's (PWD's) Green City, Clean Waters program deploys green infrastructure strategies as the primary tool for addressing CSOs and spurring sustainable urban redevelopment.
Green Infrastructure Approach
Philadelphia is drawing upon the abundant capacities of natural systems to filter, clean, and reduce the effects of stormwater. This "green infrastructure" supplants many of the more expensive and often prolonged capital projects designed to expand sewage treatment plant capacity or to install a new, separate system of stormwater pipes. Faced with budget shortfalls and a desire to pursue a holistic approach that recognizes the relationship between land use and infrastructure, PWD embarked on a comprehensive watershed-based planning process in 1997 to reduce CSOs in the 30 square miles of the city served by combined sewers. According to Dr. Christopher Crocket, deputy commissioner of environmental services, PWD made green infrastructure the central component of the city's CSO planning. "Many cities are doing lots of gray, with a little green. We're doing lots of green with a little gray."
Those early efforts have culminated in the Green City, Clean Waters program, which will replace more than one third of impervious surfaces in the CSS area with rain gardens, green roofs, street trees, porous pavers, and other green interventions — an approach that controls stormwater at the source and prevents much of it from entering the sewer system. Equally important, the program is breathing new life into the city's neighborhoods. "We wanted to maximize the economic, social, and environmental benefits for residents," says Crockett. "These are tangible improvements that increase tree cover and open space throughout the city, not something buried in the ground." The program emphasizes green infrastructure over traditional methods by budgeting approximately $1.7 billion to construct green stormwater management, roughly $350 million to expand treatment plants, and $420 million for adaptive management over 25 years. The money invested represents a net long-term gain for the city, with each dollar invested generating environmental, social, and economic benefits in the form of improved air quality, increased employment in the green sector, and increased property values, among other benefits. Using this triple-bottom-line analysis, the city expects each dollar invested in the program to generate an additional dollar in benefits across the city.
The city is measuring progress toward reducing CSOs through the conversion of impervious surfaces to "greened acres." PWD estimates that each greened acre can prevent 85 to 90 percent of stormwater runoff from impervious surfaces from entering the CSS. According to Crockett, the city is well on its way to achieving its 5-year goal of approximately 750 greened acres (1.2 square miles) within the CSS area, thanks in large part to commercial, industrial, and institutional property owners trying to reduce the stormwater fees levied on their property. "We have private landowners who are greening their properties to save money. For the city, that amounts to greened acres…. I can't overstate the importance of having the stormwater utility fee in place for the purpose of engaging the private sector in the program." As the owner of approximately 45 percent of impervious surfaces within the CSS area, the city will also play a critical role in greening acres by integrating green infrastructure into all capital improvement projects on city-owned streets, sidewalks, and properties. "This is an incremental approach, but the water quality improvements and neighborhood benefits accrue once the infrastructure is in place," notes Crockett.
A National Model for Stormwater Management
Throughout the development of the Green City, Clean Waters program, city officials worked closely with officials from EPA and the Pennsylvania Department of Environmental Protection to ensure that the program would meet EPA's CSO Control Policy goals, as well as state and local water quality standards. Detailed watershed-level models allowed local, state, and federal officials to understand how the green infrastructure investments would improve water quality and to compare these investments with alternative scenarios.
For the first five years of the Green City, Clean Waters program, the critical tasks are to build citywide capacity for implementing the plan and to advance innovative green infrastructure technologies. Through partnerships with EPA and research institutions, the city will pilot and evaluate next-generation green infrastructure strategies while integrating green best management practices into the procedures and protocols of departments and agencies citywide. The work in Philadelphia could serve as a model of 21st-century stormwater infrastructure.