April 2016 |
Volume 4, Issue 2
IN THIS ISSUE:
Grantee Spotlight: Niagara University's Levesque Center Channels Resources to the City of Niagara Falls
Continuing a Tradition of Engagement at Bowdoin College
Urban University Leaders Assess Community Partnerships

---
Continuing a Tradition of Engagement at Bowdoin College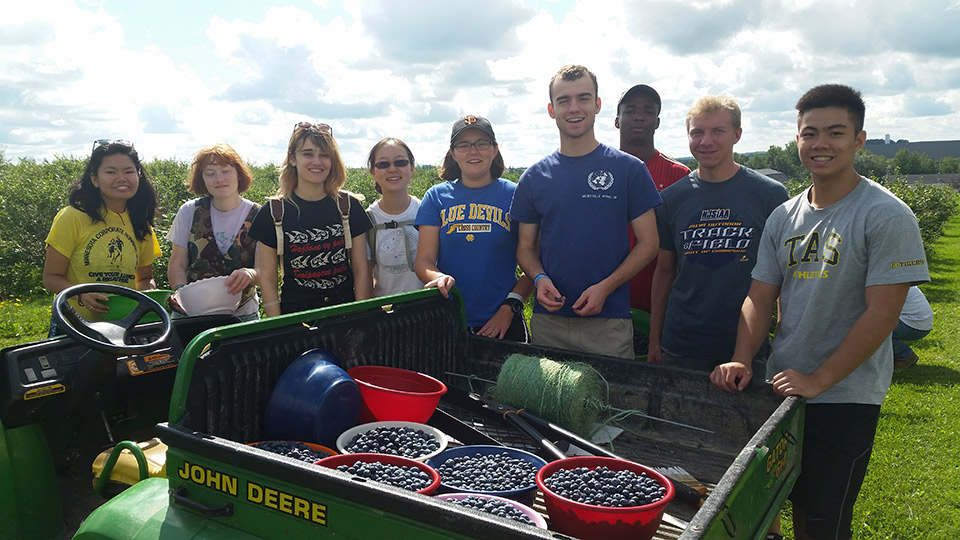 The McKeen Center coordinates community immersion trips and many other opportunities for Bowdoin College students, faculty, and staff to contribute to the common good. Credit: Monique Lillis
At the opening of Bowdoin College in 1802, Joseph McKeen, its first president, stated, "It ought always to be remembered, that literary institutions are founded and endowed for the common good, and not for the private advantage of those who resort to them for education." The liberal arts school in Brunswick, Maine, is continuing this legacy with a curriculum that emphasizes the importance of an engaged citizenry and a commitment to developing local partnerships. Bowdoin's Joseph McKeen Center for the Common Good facilitates local relationships and connects faculty and students to community engagement opportunities that supplement themes discussed in the classroom.
Community Commitment
Bowdoin College's McKeen Center serves a dual purpose of addressing community issues and providing students with experiences that help them develop skills and become lifelong community and global citizens. Using community engagement as an educational tool challenges Bowdoin students not only to be students but also to develop into true members of the Brunswick community, according to Sarah Seames, director of the McKeen Center. Acknowledging the importance of Bowdoin's neighbors to its success, Seames says, "We depend on each other; we are an important part of the community, and we also depend on the town."
Bowdoin's educational philosophy and its reciprocal relationship with the Brunswick community are engrained in the McKeen Center's wide range of initiatives, all of which are started and led by students. Students perform more than 50,000 hours of service annually, and staff, faculty, and alumni participate in engagement activities as well. With the center coordinating Bowdoin's resources with community needs, participating faculty align academic programs with community practice, and students participate in community-based research and coursework, including honors projects and independent studies. Students' engagement options also include individual volunteer opportunities, membership in 28 student-led service organizations, and campus-wide events addressing community concerns. The center also facilitates community immersion trips and alternative winter and spring breaks. Fellowships and internships are other programs administered at the center. These activities are celebrated at the end of each academic year at the Common Good Symposium, where students describe their experiences in exhibits and websites, and the college and community have another opportunity to acknowledge their partnerships and stimulate new collaborations.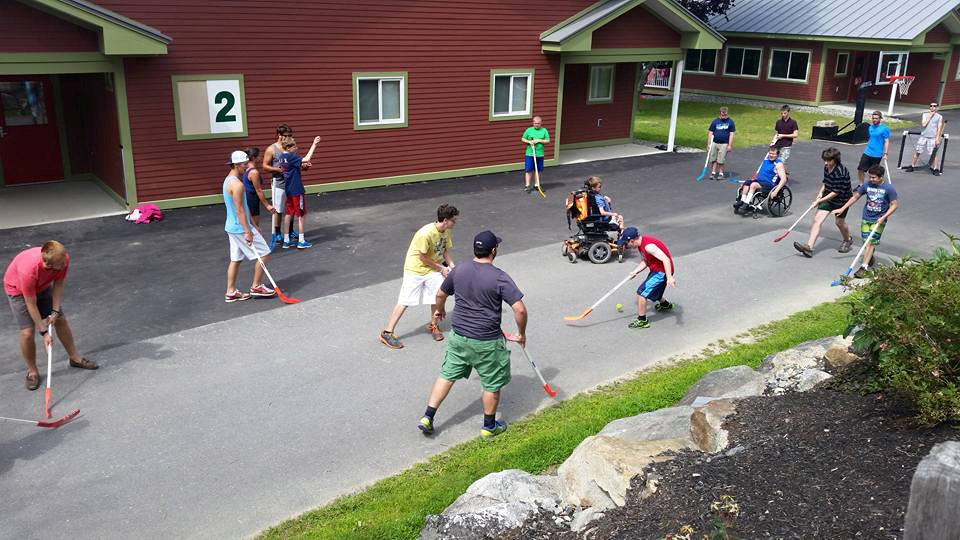 Each year, Bowdoin students award Common Good grants to nonprofits near the college, such as Pine Tree Society, which used its 2015 grant to underwrite the tuition costs for one summer camper to participate in the sports and art activities provided to persons with physical and developmental disabilities. Credit: PTS
Supporting the Common Good
One of the McKeen Center's longest running programs, the Common Good Grant, is an opportunity for students to gain practical experience in the nonprofit sector while providing financial assistance to community organizations. The program was founded in 2001 to help students understand how philanthropic foundations operate. The annual program starts in the fall with the selection of 12 students to the Common Good board. During the fall semester, the board sets award criteria for the grant, publishes application materials, and advertises the program. The board selects grantees in the spring, distributing $10,000 from a private donor to organizations within a 20-mile radius of the college.
In 2004, the Common Good Grant program expanded to include a development committee that raises funds beyond the annual $10,000 donation. The eight-student committee meets weekly in the fall to learn fundraising skills and to develop a strategy for donor relations and stewardship. The following semester, the students meet with potential donors and increase the program's funding, which has grown to about $23,500 annually. Although the grants are limited to $2,500 each, they have had a profound impact on Bowdoin's community engagement efforts, and Seames notes that, on many occasions, the grant program has led to partnerships in other McKeen Center programs. The grant program has been an important experience for many students, who have become donors as alumni, according to Seames.
Sustaining Impact
For Bowdoin, being a community partner and an engaged neighbor includes being an environmental steward. In addition to the McKeen Center's partnerships with numerous environmental organizations, the college has committed to reducing its own energy consumption and makes other contributions to alleviating the negative impacts of climate change. The Sustainability Implementation Committee, established in 2013 with faculty, staff, and student members, identifies actions, tracks outcomes, and seeks funding as the college progresses toward achieving its goals for carbon neutrality and other environmental targets. Bowdoin's sustainability campaign includes constructing green buildings, installing energy-efficient heating and cooling systems, and developing environmental research and education programs. One of Bowdoin's recent green capital improvements is a 1.2 megawatt solar power system – the largest solar installation in the state – to generate power for the campus. These activities address one of today's most crucial issues and are among the latest of Bowdoin College's many contributions to the common good.
Source:
Bowdoin College. n.d. "McKeen Center: Mission." Accessed 4 February 2016; Interview with Sarah Seames, 22 January 2016.
×