Volume 5 Number 9

October 2008
In this Issue
Healthier Homes, Healthier Children
Local Transitional Housing Effort Wins Award
A New Formula for Greening Neighborhoods
In the Garden... On the Roof!
In the next issue of Research
Works
---
Healthier Homes, Healthier Children
The 2005 American Housing Survey found that more than 6.1 million housing units were in substandard condition because of moderate or severe physical problems. Although establishing causal relationships is difficult, the Centers for Disease Control and Prevention recognize links between childhood disease and substandard housing conditions that significantly affect public health. Poor housing also has an economic impact. According to a research-based estimate by the North Carolina Housing Coalition, in one year, the "total costs of substandard housing attributable to childhood illnesses, injuries, diseases, and disabilities among North Carolina children is nearly $95 million."1
About 10 years ago, HUD launched its Healthy Homes Initiative (HHI) in response to concerns regarding children's environmental health. HHI's mission is to protect children and their families from housing-related health and safety hazards such as mold, lead, allergens, carbon monoxide, pesticides, and radon. The program funds grants for research, demonstration, and public education that help mitigate these home-based hazards. Annually, Healthy Home demonstration and technical study awards go to nonprofit and for-profit organizations, state and local governments, federally recognized Indian tribes, and institutions of higher learning. In 2005, the number of housing units receiving HHI interventions totaled 4,476.
Healthy Homes Demonstration and Technical Studies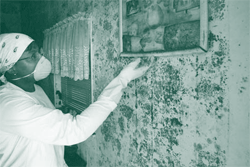 Healthy Homes Demonstration (HHD) grantees are encouraged to collaborate with community and faith-based organizations to address healthy home issues in a target area of low- and very-low-income families. Funded activities include remediation (in situations where housing-related hazards may contribute to children's diseases), education and outreach activities to protect children from these hazards, and capacity building to ensure the sustainability of the projects.
To illustrate the accomplishments achieved through these HHD projects, HUD points to Ohio's Cuyahoga County Department of Development, which addressed pulmonary hemorrhaging, asthma, and lead poisoning by controlling environmental factors — particularly moisture and mold problems — in high-risk-area homes in Cleveland. The grantee provided outreach, environmental assessment of the units, clinical assessment of the families, cost-effective home hazard remediation, post-remediation environmental testing, follow-up environmental and clinical testing, and comprehensive education of families and foster parents. Researchers found that asthmatic children showed a reduction of symptoms after the housing interventions were performed.
In a second example, the Department of Health in Erie County, New York adopted a primary prevention practice that targeted one- and two-family homes built before 1950, correcting specific health hazards before residents moved into the units. Low-cost interventions reduced the number of hazards and households with health risks. Residents reporting "no or very little limitations due to physical problems" increased from 67 to 81 percent at follow-up, and those reporting "somewhat limited or quite a lot" of limitations fell from 33 percent to 18 percent.2 In another demonstration project, the Children's Health Environmental Coalition (CHEC) used virtual reality software to develop a web-based "electronic house" that allows visitors to "walk" from room to room to identify health hazards and exposure pathways, as well as to view alternatives that minimize potential health risks. CHEC's virtual HealtheHouse is located at http://healthychild.org/programs/healthehouse/.
HHI's Technical Studies (HHTS) grant program seeks to improve methods of detecting and controlling housing-related health and safety hazards. Objectives of particular interest to HUD include developing validated assessment tools; improving protocols for environmental sampling and residential integrated pest management; improving indoor air quality; and creating strategies for efficient, cost-effective mitigation of high-priority residential health and safety hazards.
One HHTS award to Boston's Healthy Public Housing Initiative helped underwrite a multiyear community project designed to improve the health of public housing residents, especially asthmatic children. Key components of the project were an environmental assessment survey of 238 households; health and housing interventions that targeted 60 asthmatic children; pre- and post-intervention health assessments for these asthmatic children; and the training and use of 20 public housing residents as surveyors, unit inspectors, and environmental health data collectors.
The Boston initiative produced a number of useful results. For example, the initiative showed that the usual approaches to controlling pests — especially cockroaches — were often ineffective. Consequently, homes had high levels of pest infestation, allergen levels that exceeded asthma sensitivity tolerances, and evidence of the use of dangerous pesticides. Eighty percent of the children tested positive to at least one common allergen. After the interventions, including repairs, application of safer pest control products, and resident education, allergen levels fell and remained low for some months. Another intervention — new dust mite-resistant mattresses — reduced dust mite allergen levels from 78 percent to less than 3 percent.
In tandem with health education, these interventions have proven highly productive. Whereas 76 percent of the children reported wheezing, chest tightness, or coughing in preassessments, only 40 percent reported these respiratory symptoms at the end of the study. Asthma sufferers reported similar reductions in wakefulness at night (from 64 percent to 30 percent) and in interruptions of play due to asthma (64 percent to 26 percent). After assessing building conditions and health, and comparing survey data from renovated and unrenovated developments, researchers concluded that the improved building conditions have contributed to better health.
As part of HHI, HUD offers a series of background information papers on key topics: asthma, carbon monoxide, preventable home injuries, mold and moisture, and pesticides. HUD periodically updates these papers, which are useful to anyone interested in a healthy home approach. The paper on pesticides, for example, describes the hazards associated with home use, as well as methods for assessing and lowering the risks involved. Guidelines outline integrated pest management procedures and additional resources that are available. The document also identifies information gaps and needs for further research. The link to "Pesticides in the Home — Use, Hazards, and Integrated Pest Management," which can be downloaded along with the other background papers, is located online at www.hud.gov/offices/lead/hhi/hhts.cfm. HHI's home website is www.hud.gov/offices/lead/hhi.

1. David Chenoweth and Chris Estes, "The Economic Cost of Substandard Housing Conditions Among North Carolina Children." North Carolina Housing Coalition, May 2007, pp. 4, 11.
2. Family Medicine Research Institute, "Healthy Homes Initiative Final Report," May 25, 2004. Unpublished report provided by the Erie County Department of Health.