November 2011 | Volume 10 Issue 6
IN THIS ISSUE:
Public-Private Partnership Closes Funding Gap for Affordable Housing
Family and Older Adult Housing in Queens, NY
New Study Encourages Accessory Dwelling Units in the East Bay Area
New Study Encourages Accessory Dwelling Units in the East Bay Area
A new study of five California cities – Berkeley, Richmond, El Cerrito, Oakland, and Albany – calls on local officials to remove barriers to accessory dwelling units (ADUs). The call is in response to land use requirements outlined by California's Sustainable Communities and Climate Protection Act of 2008 (Senate Bill 375). The act requires local communities to provide more affordable housing options in response to population increases. The East Bay area alone will reach an estimated 2 million residents by 2035. The study, Yes in My Backyard: Mobilizing the Market for Secondary Units, suggests that accessory dwelling units (ADUs) offer an old solution to a new problem.
What are ADUs?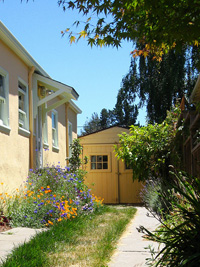 A look at a converted garage accessory dwelling unit. Image courtesy of http://www.flickr.com/photos/
harthillsouth/2735757672/sizes/z/in/
photostream/. Accessory dwelling units (also known as secondary units, in-law units, or granny flats) are self-contained housing units located on the same lot as a single-family residential unit. Some ADUs are attached to the single-family home (for example, a basement unit or a unit attached to the side of the primary home) and some ADUs are detached, stand-alone units. The authors of this report assert that ADUs work well as an infill strategy for low-density neighborhoods — typically found in more suburban areas that may be dealing with suburban poverty. In addition, smaller homes can provide affordable options for a growing older adult population living on fixed incomes. Local zoning and planning regulations that dictate large minimum lot sizes, parking requirements, and maximum building heights – together with the procedural issues often associated with design review, public hearings, and excessive fees – tend to hinder the development of these secondary units. The report examines how better regulations in five California cities can help create more ADUs.
Next Steps
The authors identify several barriers to ADUs. For example, the minimum lot size for an ADU is 4,500 square feet in Berkeley and 5,000 square feet in Richmond; these requirements generally discourage ADU development in low-income neighborhoods. In El Cerrito, a conditional use permit (CUP) is required for a unit that does not meet development code requirements such as setback, height, and floor area. The CUP can cost an applicant nearly $1,000 in development fees and requires a public hearing. In response to the study, localities are expected to hold public hearings within the next year to discuss revising these regulations to encourage the development of ADUs in the East Bay area.
Conclusion
In response to the need for more affordable housing units, the demands of the area's growing population, and the barriers to reaching regional sustainability goals for housing, communities in the study are expected to ease zoning policies, regulations, and administrative issues. The result will be a more cohesive process for ADU development that will increase affordable housing opportunities in the East Bay area.