Former Classrooms House Low-Income Seniors
Vacant or underutilized public school buildings are present in most communities. These buildings are often centrally located near public transit routes, making them ideal for adaptive reuse. Converting obsolete school buildings into residential structures has become a more common practice throughout the nation. In this article, we'll highlight two adaptive reuse projects where, aided by successful public-private partnerships, unused school buildings were converted into much-needed affordable senior housing. Both projects benefited significantly from broad-based community efforts and regulatory assistance provided by the respective local governments.
Maeser School in Provo, Utah
Provo, the second largest city in the state of Utah, is home to historic Maeser School — an award-winning adaptive reuse project providing affordable housing for senior citizens. Built in 1898, the elementary school was in operation for over a century until it closed its doors in 2002. Without any buyers, the vacant school building, which is listed on the National Register for Historic Places, was scheduled for demolition in 2004, when the Provo Housing Authority stepped in to purchase the property from the school board. With a proposal to convert the building into housing for low-income seniors, the housing authority garnered local support and obtained financing from 14 different sources, including Low Income Housing Tax Credits, state Historic Tax Credits, and U.S. Department of Housing and Urban Development (HUD) grants.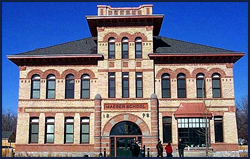 The city of Provo facilitated the redevelopment by rezoning the school property for multifamily use. In 2002, Provo adopted the Project Redevelopment Option (PRO) zoning classification to promote well-planned developments in the city's older neighborhoods. To provide affordable senior rental housing, increase homeownership opportunities, and preserve the historic school building, the city created the Historic Maeser School Project Redevelopment Option Zone in 2005. The PRO allows single-family and multifamily units with a minimum floor area of 1,300 square feet for owner-occupied units and 340 square feet for elder housing units. Provo's General Plan also encourages the development of moderate-income housing in PRO zones. According to the Plan, the Maeser School reuse significantly helps meet the projected demand for affordable senior housing in the city.
Completed in 2006, the project yielded 25 one-bedroom and 6 two-bedroom apartments affordable to seniors earning less than 50 percent of the area median income. The project also includes a community room and an in-house laundromat. As part of the renovation, many architectural features of the historic building were restored, resulting in the preservation of this cultural landmark. The remaining school grounds were subdivided into 12 single-family lots that were purchased by the Rural Housing Development Corporation for affordable housing development under its Urban Self-Help Program. Effective collaboration between community and local government organizations also led to the successful transformation of a vacant, surplus school building into rental housing for low-income seniors in Gowanda, New York.
The Academy Place Project in Gowanda, New York
The Village of Gowanda is a small community of less than 3,000 people in western New York. In its 1998 Master Plan, the village identified the need to increase affordable housing options for its growing elderly population. When a former elementary school, owned by the Gowanda Central School District, closed in 2002, the Village worked with Healthy Community Alliance (HCA), a nonprofit rural health network, to redevelop the school property into a mixed-use development that includes affordable housing for seniors.
In 1999, the school board assembled a voluntary task force of 30 community members to determine the best possible reuse for the site. The final proposal, resulting from a decade-long collaboration between key community members and organizations, called for converting the approximately 80,000 square feet of space into 32 affordable senior residential units, an adult day care center, a child day care, community space, and commercial spaces.
The redevelopment effort was spearheaded by HCA in partnership with the village government, the school district, and other community organizations. In 2007, the village approved a special use permit and variance to allow residential use on the school property that was previously zoned for commercial use. With an estimated cost of $10.2 million, a variety of loans and grants (including $1.9 million in HUD 202 funds and $1.5 million from New York's Empire State Development) helped finance the project.
The Academy Place project broke ground in October 2008 and is expected to open in early 2010. Upon completion, the project will house 28 one-bedroom and 4 two-bedroom apartments for low-income seniors aged 62 and over. Five of these apartments will be available to elderly persons requiring special service provisions. Rents for the apartments will be affordable at $295 per month for one-bedroom units and $350 for two-bedroom units.
Conclusion
Unused public school buildings can be a great resource for increasing a community's affordable housing supply. When the buildings have cultural or historic significance, their redevelopment can also help revitalize and strengthen the community as a whole. Strong collaboration between the developer, local government, and community members helps ensure the successful transformation of defunct classrooms into affordable housing.