May 2010 |
Volume 9 Issue 3
IN THIS ISSUE:
"The Old Line State" Works to Assist Many New Families
California Links Environmental Concerns with Affordable Housing and Transportation
Impact Fee Cuts Increase Housing Affordability
"The Old Line State" Works to Assist Many New Families
In 2005, the state of Maryland learned it would soon be expecting a large influx of residents due to the recommendations from U.S. military's Base Realignment and Closure Commission (BRAC). The Commission was faced with the difficult task of deciding the fate of many military installations across the country, closing some and realigning others to cut expenses. As a result of these closures and realignments, more than 25,000 families have relocated to the Old Line State since 2005, and population estimates suggest that the state will continue to receive new residents through 2011. Maryland will also experience a 42,364 increase in BRAC-related direct, contract, and service jobs, making the need for quality workforce housing critical for these newcomers. This article discusses Maryland state and local government efforts to meet the housing needs of these families.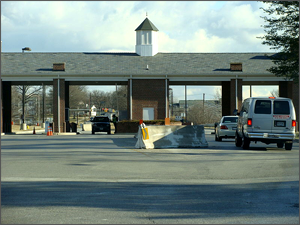 Maryland's BRAC Action Plan
Statewide strategies for affordable housing are outlined in the State of Maryland Action Plan, created in 2007 by the Governor's Subcabinet on BRAC. The Plan includes several recommendations to expand the availability of affordable housing for the large number of incoming residents. The Action Plan identifies strategies for infrastructure improvements and for expanding homeownership opportunities. The plan includes a statewide analysis of the supply and demand of housing for all income levels; downpayment assistance programs, market strategies for rental housing finance; ways to expand housing opportunities through the adoption of inclusionary zoning ordinances; and implementing grant programs for workforce housing.
Maryland's Department of Housing and Community Development (DHCD) was charged with carrying out the housing-related recommendations of the Action Plan. A 2009 follow-up report notes that the DHCD obtained federal and nonprofit funds for affordable housing, including $11.1 million from the American Recovery and Reinvestment Act (ARRA) to support rental housing construction and a grant from the MacArthur Foundation for $4.5 million to expand housing opportunities in BRAC jurisdictions. Additionally, the DHCD recommended that BRAC-related projects may receive extra points for federal Low-Income Housing Tax Credits (LIHTC). Two state programs — a downpayment assistance and safe-mortgage program and Maryland Mortgage Program loans — were expanded to provide financial support for the relocation of BRAC households.
County-Level Responses
Counties across Central Maryland are witnessing a surge in population due to BRAC in-migration. These communities are working with the state on the BRAC Action Plan to ensure that the housing needs of incoming families are met. Anne Arundel County, for example, will confront new housing challenges due to the 20,000 job opportunities that will become available at the Fort Meade Army base. A report submitted to the county that details recommendations for increasing affordable housing suggests making publicly owned land available for workforce housing development. Anne Arundel is also actively using federal and state funds to rehabilitate existing affordable rental housing near Fort Meade.
Conclusion
By 2011, the BRAC process will be complete as state strategies are adopted to ensure affordable housing for the growing population of residents. These strategies include allocating grant funds for affordable housing development; giving extra consideration to BRAC-related projects for low-income households; emphasizing downpayment assistance programs; and making publicly owned land available for future projects. The Old Line State will continue to expand new initiatives that will assist families in search of quality, affordable housing.
Next
Search Archive