---
A Newsletter From HUD USER, September 1996

How to Contact HUD USER

September 12-14. Communities Making a Difference: Ending Homelessness Takes All of Us Working Together, Dallas, TX. Contact: U.S. Department of Veterans Affairs (202) 273-6284.

September 15-18. COSCDA Fall Annual Conference, Boston, MA. Contact: Council of State Community Development Agencies (202) 393-6435.

September 19-21. NCCED 25th Annual Conference and Celebration, New York, NY. Contact: National Congress for Community Economic Development (202) 234-5009.

September 28-October 2. ALHFA/NCUED 21st Annual Conference and Training, New Orleans, LA. Contact: Association of Local Housing Finance Agencies (202) 857-1197.
---


In the July/August issue of FieldWorks:

A multi-ethnic partnership that creates homeownership opportunities in Chicago.
Business revival strategies for inner-city Camden, New Jersey.
"Resident-driven" development in Columbus.
Arc of North Carolina's nationally recognized supportive housing projects for persons with developmental disabilities.
Internet resources on community development funding strategies.
Upcoming events of interest to housing and community development professionals.
$15 for a 1-year subscription (six issues) or $2.50 per bimonthly issue. To order your subscription, please complete the online order form.

Or contact: HUD USER, P.O. Box 23268, Washington, D.C. 20026-3268

Call 1-800-245-2691

---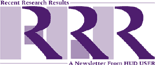 These pages contain borderless buttons. Clicking on the RRR logo at the end of any article will bring you back to this page. All highlighted text passages are active links and can be clicked on to move through the document. Clicking on the logo to the left will take you back to the RRR home page.