February 2013 |
Volume 2, Issue 1
IN THIS ISSUE:
Grantee Spotlight: Albuquerque's Bridge Boulevard Redevelopment Plan
Mixed-Use, Mixed-Income Development near Rail Transit in Reading, Massachusetts
ARRA-Funded Energy-Efficiency Program Seeds Private-Sector Financing
Earn-A-Bike Aims to Get the University of Louisville Cycling

---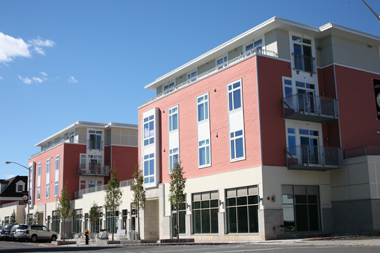 30 Haven offers 11 affordable housing units within walking distance of shops, restaurants, and an MBTA Commuter Rail station. Image courtesy of Oaktree Development.Once the site of an abandoned grocery store, 30 Haven Street is occupied by the first mixed-use development with modular housing in Reading, Massachusetts, a historic town in the Boston suburbs. The development is composed of 23 one-bedroom units, 30 two-bedroom units, and 22,000 square feet of retail space. Because of its downtown location, 30 Haven is also the first project subject to Reading's Downtown Smart Growth Overlay District zoning by-law, which stipulates that 20 percent of new residences in developments must be designated as affordable. As a result, 11 of the 53 residential units in 30 Haven are affordable to households earning up to 80 percent of area median income.
Development Under Reading's Downtown Smart Growth Overlay District
The town of Reading adopted its Downtown Smart Growth Overlay District zoning by-law in November 2009, in accordance with Chapter 40R of the Massachusetts General Laws. Under Chapter 40R, the state provides financial incentives to localities that enact (and obtain state approval of) overlay zoning districts that promote smart growth principles in areas of concentrated development, transit station areas, and other appropriate locations. Massachusetts approved Reading's Downtown Smart Growth Overlay District because of its proximity to the Haverhill Line of the Massachusetts Bay Transportation Authority's (MBTA) Commuter Rail.
In exchange for overlay district zoning that supports smart growth, Massachusetts offers localities a payment based on the increase in residential development capacity of the overlay district compared to what would be allowed by the underlying zoning district. The state also offers local governments $3,000 for the construction of each additional residential unit attributable to the overlay regulations, which is paid after each building permit is issued.
The underlying zoning in Reading's downtown did not allow mixed-use or multifamily developments, but the overlay zoning permits both. As a result, Reading received $509,000 in Chapter 40R funding — $350,000 for the 256 additional units allowed by the overlay zoning district and $159,000 for the 53 residential units approved in 30 Haven.
Support for 30 Haven
Because it allows multifamily residential units in the downtown, the Downtown Smart Growth Overlay District is consistent with Reading's 2005 Master Plan and 2006 Housing Plan. However, the overlay zoning district allows for only 20 residential units per acre by right. To make 30 Haven possible, the town permitted an increase in residential density from 20 to 73 residential units per acre (or 56 allowable units on the site).
Reading also awarded $200,000 from its affordable housing trust fund to Oaktree Development for the development of 30 Haven. Private investment supplied the remainder of the financing for the $18.5 million project. According to Arthur Klipfel, a partner at Oaktree Development, the 30 Haven project was constructed quickly and efficiently, at a cost of approximately 10 percent less than comparable developments, because of the use of prefabricated modular units.
Well Located, Energy-Efficient Housing
The 30 Haven development, which opened in October 2012, aligns well with the purposes of Chapter 40R and the Downtown Smart Growth Overlay District. As a mixed-use, infill development in downtown Reading, 30 Haven offers residents convenient access to shops and restaurants and has a Walk Score rating of 91. The development is located within a block of an MBTA Commuter Rail station and multiple bus lines, giving residents easy access to other employment and recreational opportunities.
To support alternative transportation options, the developers of 30 Haven provided residents with secure bike storage. The developers also incorporated several energy-efficient measures into the project, including eco-friendly carpet, energy-efficient heating and cooling systems, and ENERGY STAR® appliances.
A Model of Development That Helps Achieve State Goals
According to Jessica Casey, director of policy development and implementation for Massachusetts' Executive Office of Housing and Economic Development (EOHED), 30 Haven is a model of the type of development that the state wants to encourage under Chapter 40R. The statute is one of the tools and resources that implement EOHED's "Housing that Works" initiative — housing that is reasonably dense, reasonably located, and reasonably priced. Casey notes that 30 Haven exemplifies all three criteria for "Housing that Works."