August 2012 |
Volume 1, Issue 4
IN THIS ISSUE:
Dedicated Paths and Lanes: Their Influence on Bike Commuting
Grantee Spotlight: Honolulu's Transit-Oriented Housing Strategy
Study Confirms Energy Savings in Multifamily Building Retrofits
Mixed-Use, Transit-Oriented Development in Arlington, Virginia

---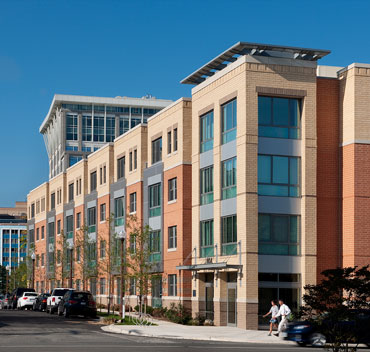 The Jordan has won numerous design awards for its architecture, is certified by EarthCraft, and contains 90 units of housing for special needs and low-income residents. Image courtesy of AHC Incorporated. It took only 90 days to lease all 90 affordable housing units at The Jordan, a development in Arlington, Virginia, completed in August 2011 by AHC Incorporated (AHC). The development, composed of 17 one-bedroom, 68 two-bedroom, and 5 three-bedroom apartments, is located about 4 blocks from the Ballston Metro station. In addition, the complex is equipped with a library, a community room, a landscaped courtyard with a play fountain for children, and underground parking. The Jordan is part of a mixed-use development that includes two office buildings (each about 225,000 square feet) with ground-floor retail and a nearby parcel where 28 market-rate townhouses will be built.
Affordability and Transit-Oriented Development
The Arlington County Supportive Housing Program coordinates Section 8 vouchers for nine of The Jordan's units, ensuring that they go to special needs residents — for example, formerly homeless persons or individuals with a mental illness. Eighteen units are reserved for people who earn 50 percent of area median income (AMI), and the remaining 63 apartments are for people who earn 60 percent of AMI.
AHC, the developer, is also committed to facilitating multiple transit options for residents. For instance, to encourage tenants to use nearby public transportation options, AHC invests $10,000 annually toward monthly farecards for every unit. John Welsh, vice president of AHC's Multifamily Group, says that if residents do not take advantage of the Metro farecard program, AHC may investigate shared car program options.
Award-Winning Green Design
The Jordan is certified by EarthCraft, a green housing certification system that focuses on energy and water efficiency. In addition to installing highly efficient windows and sustainable cellulose insulation, AHC used vinyl-plank flooring, which reduces the high indoor allergen levels that often result from carpeting, explains Welsh. Vinyl-plank floors also cut down on waste generated by replacing carpets every few years.
The development won a 2011 Award of Merit from the DESIGNArlington Awards Program. At the Affordable Housing Conference in May 2012, it won first place in the 2012 Architectural Design Program's New Construction category.
Land Swap
The Jordan's development was made possible, in part, by a land swap. AHC had managed a 24-unit affordable housing property at a different location, also about 4 blocks from the Ballston Metro station, since the 1980s. Several years ago, AHC wanted to expand and transform that property into 100 affordable rental units. To accommodate the desired level of density, explains Welsh, the development's buildings would have to be seven stories tall, which would have been problematic given the community's existing density and nearby single-family homes.
Around the same time, JBG Companies (JBG), a for-profit developer, purchased two lots beside AHC's property. JBG planned two office buildings for the lots, as well as a suite of townhouses. But the community was not pleased with the proposed site plan, according to Welsh. They felt that the public amenities JBG proposed were insufficient to support the project's planned density. In fall 2007, after public meetings and private negotiations, JBG and AHC agreed to a land swap, and by fall 2011, AHC had built The Jordan on the parcel where the JBG townhouses were slated to go. JBG plans to build its townhouses on AHC's former lot.
Neighborhood Support
Welsh adds that the neighborhood "was really instrumental" and "very welcoming" to The Jordan. He points out that several residents, including a local civic association president, took on leadership roles in guiding the project. That the smaller AHC development was already part of the neighborhood, with a reputation as a neat, tidy building, also contributed to the community's embrace of the project. The inclusion of affordable units in The Jordan development made "the difference" in eliciting a positive reaction on the community's part , Welsh notes, because "the need is so great" for affordable units in the neighborhood.