April 2014 |
Volume 2, Issue 1
IN THIS ISSUE:
Grantee Spotlight: Arid Lands Institute Plans for Water-Stressed Communities
Understanding the Impact of Anchor Institutions on Low-Income Communities
Recap: Anchor Institutions Task Force 2013 Annual Conference

---
Understanding the Impact of Anchor Institutions on Low-Income Communities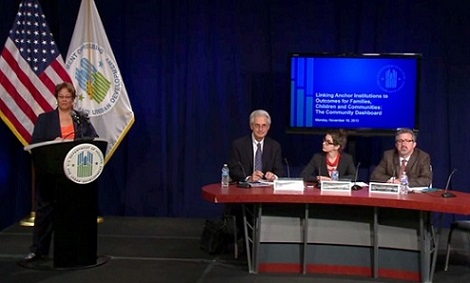 Sherone Ivey, deputy assistant secretary, the Office of University Partnerships, welcomes (from left to right) Ted Howard and Sarah McKinley, two of the authors of The Anchor Dashboard, and Charles Rutheiser, senior associate at the Annie E. Casey Foundation. Image courtesy of the Democracy Collaborative. As part of its decades-long work with anchors — institutions that are deeply rooted in their communities — OUP hosted a November 2013 conference on "Linking Anchor Institutions to Outcomes for Families, Children and Communities: The Community Dashboard." The conference, which was webcast for the general public, highlighted findings from a new white paper, The Anchor Dashboard: Aligning Institutional Practice to Meet Low-Income Community Needs, prepared by the Democracy Collaborative at the University of Maryland and funded by the Annie E. Casey Foundation. At the event, two of the paper's authors, Ted Howard and Sarah McKinley, reviewed their report and discussed how to use the anchor dashboard to measure outcomes of anchor institutions' work in vulnerable communities.
Gaining Critical Insight from Anchor Institutions and Organizations that Interact with Them
Anchor institutions face many challenges when forming partnerships with local organizations and working in the surrounding communities, including building an initial relationship, aligning community well-being with the anchor's broader goals, coordinating work among units within the anchor institution, and accurately measuring the effects of anchor work separately from other community development efforts. Despite these obstacles, however, anchors are increasingly aware that their well-being is connected to that of the communities around them.
The paper, which draws on existing methods of measuring anchor work as well as more than 100 in-depth interviews conducted with leaders of anchors, nonprofits, federal agencies, and community organizations, presents a way to measure the effectiveness of anchors' efforts. The interviews revealed a set of community outcomes in the general areas of economic development; community building; education; and health, safety, and environment that many interviewees considered to be important. The paper presents 12 outcomes in a dashboard tool, a matrix with sample indicators for each outcome that can be used to evaluate how well anchors are achieving the desired outcome (figure 1). For example, the University Hospitals System in Cleveland evaluated its impact on the Equitable Local and Minority Business Procurement outcome by the dollar amount of contracts made with women and minority-owned local businesses. In Rochester, Minnesota, the Mayo Clinic Foundation's success in the Affordable Housing outcome was measured by how much it invested in the First Homes Community Land Trust. The University of Pennsylvania used its presence in 23 Philadelphia city schools to measure success in the dashboard's Educated Youth outcome.
Figure 1. Anchor Institution Community Benefit Dashboard
Source: Democracy Collaborative
Authors Howard and McKinley emphasized that their study was intended to spark discussions among anchors and community groups about how to measure the effectiveness of the anchors' work. Creating the dashboard as a framework that anchors can use to measure their impact on communities is a first step for the Democracy Collaborative, which hopes to assemble a cohort of anchor institutions that will test the dashboard matrix. The cohort will likely report useful aspects of the tool and make recommendations for improvements.
Changing Administration and Culture to Incorporate an Anchor Mission
Charles Rutheiser, senior associate at the Annie E. Casey Foundation, offered several comments on anchor institutions from a foundation's perspective. Unlike other job-creating organizations, anchor institutions are "a means to an end," making a long-term commitment to the complex and difficult task of community revitalization. Doing this is not "business as usual," according to Rutheiser. Instead, an organization must adopt an "anchor mission" as part of its institutional goals and adapt its internal operations and interactions with other organizations to achieve that goal. Such fundamental changes are difficult for anchor institutions, especially philanthropies and academic institutions, which tend to be slow moving and conservative. Some institutions have already made the necessary changes, and their efforts are showing results. To help other institutions deepen their role as anchors, a set of metrics and a way of gathering data are needed to show that these new ways of doing business are producing real results, as measured in the dashboard.
The conference offered participants a chance to discuss the importance of anchors and ways to measure the positive changes occurring in communities as a result of anchor activities. In closing the event, Jean Lin Pao, general deputy assistant secretary for HUD's Office of Policy Development and Research, reiterated the agency's commitment to promoting affordable, healthy communities for all.
To view the archived webcast, visit the Democracy Collaborative's webpage for the event.