August 2013 |
Volume 1, Issue 1
IN THIS ISSUE:
Grantee Spotlight: LeMoyne Owen College Community Development Corporation Revitalizes Soulsville
Brownsville Aims to Become International Economic Hub
Facilitators of Change: OUP's Connections and Resources Transform and Empower Communities

---
Grantee Spotlight: LeMoyne Owen College Community Development Corporation Revitalizes Soulsville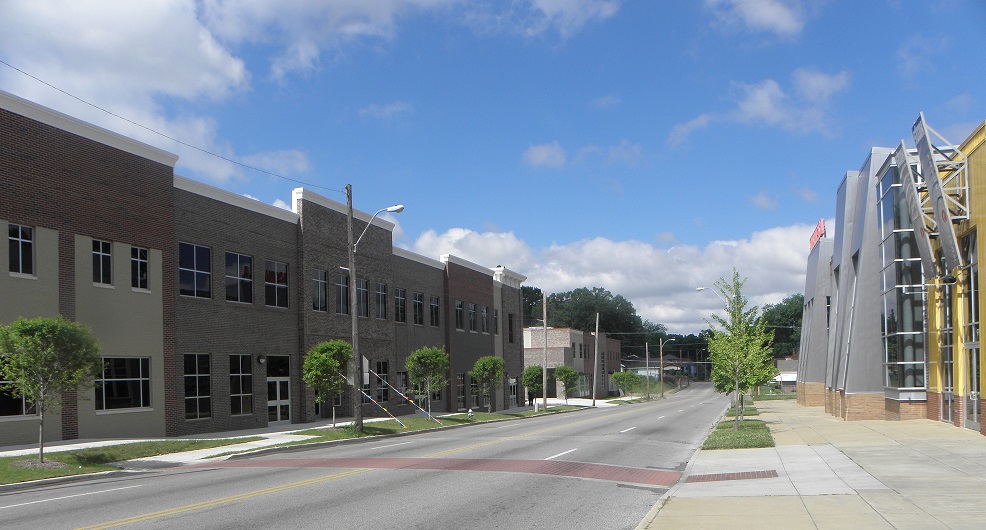 Towne Center at Soulsville USA, across East McLemore Street from the Stax Museum of American Soul Music, is home to a variety of private businesses and the office of the Lemoyne-Owen College Community Development Corporation. Image courtesy of the Lemoyne-Owen College Community Development Corporation.
Soulsville, a struggling low-income community in Memphis, Tennessee, is home to LeMoyne-Owen College, which has long been interested in the neighborhood's welfare. In 1989, the college founded the LeMoyne-Owen College Community Development Corporation (LOCCDC), which is a HUD-designated community housing development organization. Between 1993 and 2009, the college received several Historically Black Colleges and Universities (HBCU) grants from HUD, and LOCCDC has used the grant money to carry out housing, economic, and community revitalization activities in Soulsville.
Soulsville
Although Soulsville was once a racially diverse middle-class community, by the late 1950s, the neighborhood was becoming poorer and more segregated. Today, Soulsville is one of the poorest areas in Memphis. The 2007–2011 American Community Survey estimates that the median household incomes for census tracts in Soulsville ranged from $14,429 to $20,154. During that period, more than 50 percent of neighborhood residents lived below the federal poverty level, more than 35 percent of residents aged 25 or older lacked a high school diploma, and the unemployment rate was above 25 percent. In addition, more than 55 percent of renters and 40 percent of homeowners in the community were burdened with housing costs exceeding 30 percent of income.
At the same time, however, Soulsville has several enduring assets that are important to its revitalization efforts. The neighborhood is home to not only LeMoyne-Owen College, Memphis's first African-American institution of higher education, but also the city's first educational institution for girls, St. Agnes Academy. In the 1960s, the Stax Records recording studio and the adjacent Satellite Record Shop served as places for artists to meet and share knowledge and creative insights. One of the hotbeds of soul music, Stax Records was home to legendary musicians such as Otis Redding, Carla Thomas, Isaac Hayes, the Staple Singers, and Booker T. and the MGs.
Connecting LeMoyne-Owen College with the Community
LOCCDC intentionally located one of its notable projects, Towne Center at Soulsville USA, across the street from the Stax Museum of American Soul Music to capitalize on the museum's success. Towne Center provides 101,000 square feet of space for retail, restaurants, health services, and a business incubator. Development of the center, which opened in 2010, was funded using small portions of the 2002, 2003, and 2005 HBCU grants, as well as funding from other federal agencies, the city, foundations, and private organizations.
In addition to Towne Center, LOCCDC programs to improve conditions in Soulsville include housing counseling services and housing development and rehabilitation. The community organization's economic development activities offer a microloan program for small businesses and a business development "boot camp," where potential entrepreneurs learn vital business skills. Over 800 individuals have graduated from the Business Development Institute, generating 75 new businesses and more than 180 jobs. And over 500 residents have completed the institute's Career Express, with more than 70 percent placed in jobs. LOCCDC also runs several community programs such as the Soulsville USA Wellness Corridor and the Expanding Assets and Steering Initiative, which focus on education about healthy food choices and male youth mentorship, respectively.
Jeffrey Higgs, executive director of LOCCDC since 1999, states that the organization has used each of its HBCU grants to build on past successes. Its most recent HBCU grant, awarded in 2009, has supplemented Community Development Block Grant (CDBG) funding for housing and for community and economic development. In addition to CDBG funding, the city has also awarded HOME Investment Partnerships program money to LOCCDC.
Using Partnerships to Further Revitalization
Supplementing LOCCDC's revitalization efforts is the Soulsville Foundation, which opened the Stax Museum of American Soul Music in 2003 on the site of the former Stax Records studio. The museum offers employment opportunities to local residents as it celebrates the legacy of Stax Records and soul music in general. Adjacent to the museum, the Soulsville Foundation funds and operates the Soulsville Charter School and the Stax Music Academy. Another organization, the Greater Memphis Partnership, which fosters relationships among local organizations, has targeted its resources on neighborhood revitalization in Soulsville, as well as other neighborhoods in the region.
Beyond local partnerships, LOCCDC has also joined the Historically Black Colleges and Universities Community Development Action Coalition, composed of HBCUs, community development corporations, and other minority-serving institutions from across the country. The coalition advocates nationally for community and economic development policies and seeks to improve the skills of industry professionals.
Signs of Improvement
According to Higgs, all of LOCCDC's partners have encouraged revitalization in Soulsville; the organization "didn't do this [revitalization work] in a vacuum." Recognizing that a lot of growth and development has occurred in Soulsville in recent years, Higgs proudly cites the roughly $2,000 rise in per capita income in one of Soulsville's census tracts since the community development corporation's work began. Higgs is also encouraged by other organizations' initiatives and developments targeting Soulsville, indicating a strong common interest in further improving the community. For example, with the help of an ArtPlace grant, the Memphis Symphony Orchestra has been holding concerts at the Towne Center and using music to fuel Soulsville's redevelopment as part of the Memphis Music Magnet initiative.
Although LOCCDC uses federal, state, and local funding, Higgs credits the HBCU grants as the foundation for its accomplishments. Because the grants are flexible, they have funded development activities, community programs, and training that equipped staff to tackle difficult community issues. According to Higgs, "without the HUD HBCU grants, all of the work we have been doing would have taken longer, and some of the projects would not have been completed due to lack of staff time or expertise."