August 2013 |
Volume 1, Issue 1
IN THIS ISSUE:
Grantee Spotlight: LeMoyne Owen College Community Development Corporation Revitalizes Soulsville
Brownsville Aims to Become International Economic Hub
Facilitators of Change: OUP's Connections and Resources Transform and Empower Communities

---
Facilitators of Change: OUP's Connections and Resources Transform and Empower Communities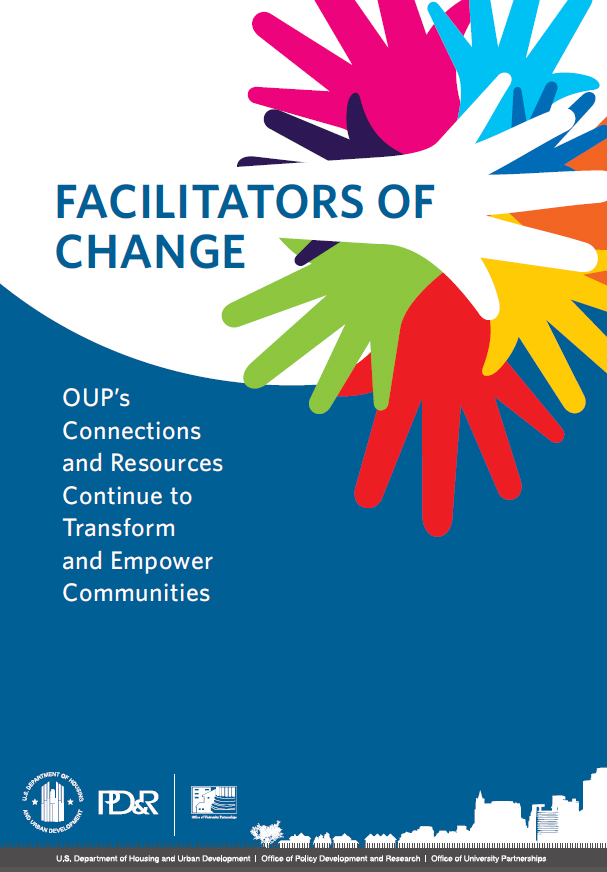 A recent publication of HUD's Office of University Partnerships reports the successes of its grant programs and discusses its future efforts. Image courtesy of HUD, Office of University Partnerships.
In a time of declining federal funding, partnerships that can leverage resources to accomplish complementary goals are vital to creating and maintaining successful communities. HUD's Office of University Partnerships (OUP) has fostered these partnerships by investing funds in institutions of higher education (IHEs), which use these grants to secure additional funding and tackle difficult community and economic development issues. OUP also funds IHE research and service learning that empowers future leaders. A recently released report, "Facilitators of Change: OUP's Connections and Resources Continue to Transform and Empower Communities," highlights successful partnerships and outcomes that OUP grants have made possible. The report also discusses how OUP will improve efficiency in communicating with grantees and continue to be a valuable resource for IHEs and communities despite funding reductions.
At the Intersection of Education and Community Development
IHEs that embrace their roles as anchor institutions can become important actors in community development and redevelopment. An anchor institution is a large organization that brings together the social, financial, and physical resources necessary for community sustainability. Although nonprofit organizations, churches, and hospitals serve as anchor institutions in many communities, IHEs are particularly strong anchors because of their size, financial resources, capacity to create jobs, educational role, and relationships with other community leaders and organizations.
Since 1994, OUP has provided numerous grants to IHEs to support their roles as anchor institutions. The "Facilitators of Change" report identifies a few of the grantees' major accomplishments. Some IHEs that received grants have created or coordinated with existing nonprofit community development corporations (CDCs) to provide expertise and capital in distressed neighborhoods. With the assistance of a grant from OUP's Historically Black Colleges and Universities (HBCU) program, LeMoyne-Owen College and its CDC raised other public and private funds for a mixed-use space in Towne Center at Soulsville USA. One of the tenants of the successful mixed use development is the CDC's Business Development Institute, which boasts 800 graduates, 75 new businesses, and more than 180 jobs. In addition, the institute's Career Express program has trained more than 500 residents and helped place more than 70 percent of trainees in jobs.
OUP grantees have also brought together nonprofit, public, and private funding to provide training and capital to entrepreneurs and small businesses in underserved communities. In partnership with community residents and businesses, the San Antonio Hispanic Chamber of Commerce, the Community Development Loan Fund, and the Citi Foundation, and with funding from a 2008 OUP Hispanic-Serving Institutions Assisting Communities (HSIAC) grant, St. Mary's University rehabilitated a multipurpose center to provide technical assistance and financial literacy education for small community businesses.
OUP grantees have been catalysts for community engagement, listening to community needs and forming partnerships to foster social capital in their communities. The Social Work Community Outreach Service (SWCOS) at the University of Maryland, Baltimore used its two OUP Community Outreach Partnership Centers (COPC) grants to revitalize distressed neighborhoods near the university. The grants also enhanced the relationship between the community and the university and brought additional income into the neighborhoods. Graduate students continue SWCOS efforts without the benefit of OUP grants, helping community organizations obtain funds, training community leaders, and connecting youth to nonprofit organizations.
In addition, several IHEs have used OUP grants to bring needed services and training to minority and native communities. The Interior-Aleutians Campus of the University of Alaska Fairbanks used an Alaska Native/Native Hawaiian Institutions Assisting Communities (AN/NHIAC) grant from OUP to form a strategic partnership with Alaska Native organizations, the Interior Regional Housing Authority, and the Cold Climate Housing Research Center to renovate a structure housing the Gaalee'ya Spirit Camp. The camp, part of the university's Upward Bound program, helps connect tribal youth with their cultural heritage. To address substance abuse and high school dropout rates in the Alaska Native community, the camp also promotes youth leadership skills and provides science, technology, engineering, and mathematics education to help Alaska Native students prepare for college.
Likewise, with grants from OUP's Tribal Colleges and Universities Program (TCUP), Salish Kootenai College responded to the needs of the Native American community in Pablo, Montana. The college built the Joe McDonald Health and Fitness Center, which provides a space for physical exercise and healthy cooking classes. Although the center is primarily for the college's students, faculty, and staff, it also serves the broader community.
Hispanic residents near Midland College expressed feelings of unease because their ethnicity and socioeconomic status were different from those of students and faculty at the Texas college. Among other actions to address this, the school used an OUP HSIAC grant to establish the Bill Pace Cogdell Learning Center, a satellite building for adult educational programs sited in a Hispanic neighborhood. Using another HSIAC grant, the learning center partnered with the Midland Community Development Corporation and a local branch of Community National Bank to offer individual development accounts (IDAs) to low- and moderate-income community members. The center increased wealth in the community by matching deposits in the IDAs dollar for dollar, which residents could use to buy a home and small businesses could use for major purchases.
OUP grants are investments with great returns. The partnerships developed through OUP's programs ultimately leverage other funding, material donations, and volunteer efforts. Between 2005 and 2010, the average HSAIC grantee matched 138 percent of grant funding, and the average TCUP grantee matched 100 percent of grant funding. And between 2007 and 2010, the average HBCU leveraged 53 percent of grant funding.
Focus on Service Learning and Research to Empower Future Community Leaders
OUP programs such as the Community Development Work Study Program (CDWSP) and the Universities Rebuilding America Partnerships (URAP) program have improved service learning and student engagement. CDWSP has provided work study and other financial aid for graduate students interested in community and economic development. URAP has sponsored university-community partnerships that responded to the Gulf Coast destruction caused by Hurricanes Katrina and Rita. Students who participated in Tulane University's URBANbuild program helped revive blighted neighborhoods through the design and development of sustainable, affordable housing. Service learning opportunities such as URBANbuild may have lasting benefits; many youths involved in community service programs such as AmeriCorps are later employed in public service.
OUP's Doctoral Dissertation Research Grant (DDRG) program has allowed doctoral candidates to undertake important housing and urban development research for their dissertations, and the Early Doctoral Student Research Grant (EDSRG) program has provided funding for precandidacy doctoral students to research housing and urban development issues. Many of these grantees continue to serve communities after receiving their doctorates by becoming policy analysts, social scientists, professors, and economists. Through these programs, OUP not only assists doctoral students but also supports research that aids federal policymaking and problem solving.
Fostering Information Exchange
Just as OUP fosters partnerships between IHEs and communities, the office partners with other federal agencies and organizations, including the American Indian Higher Education Consortium, the Anchor Institutions Task Force, the National Association for Equal Opportunity in Higher Education, NeighborWorks America, and the U.S. Department of Health and Human Services. These partnerships have resulted in collaborative education, training, and technical assistance for grantees, as well as participation in conferences. OUP's exhibits at events such as the National Fair Housing Summit have encouraged grantees to collaborate and have provided a venue for disseminating outreach materials and publications that feature grantee research and highlight successful grantee endeavors.
Although the university partnership programs are no longer funded, OUP remains an important facilitator of relationships among IHEs and communities, and a promoter of policy-relevant research and service learning. OUP is now exploring an enhanced online presence and other efficient methods of providing guidance and enabling information exchange among grantees and others. OUP also continues to foster strategic partnerships with other anchor institutions, organizations, and federal agencies to address difficult issues and advance community-centered growth and revitalization.