December 2013 |
Volume 1, Issue 3
IN THIS ISSUE:
Grantee Spotlight: University of Alaska Fairbanks Creates an Energy-Efficient Prototype Home for Harsh Winters
Wagner College Concentrates Civic Efforts in Port Richmond Community
Nancy Cantor: A Scholar in Action

---
Wagner College Concentrates Civic Efforts in Port Richmond Community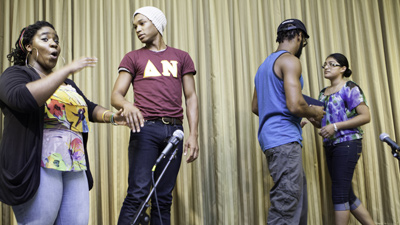 In "The Sounds of Port Richmond" performance, Wagner students and residents dramatized tension in the community to help address the issues. Image courtesy of Anna Mulé | Wagner College. In August 2013, actors in the community theater performance, "The Sounds of Port Richmond," dramatized the social tension that Port Richmond, New York has recently been experiencing. The series of skits premiered at the community's monthly friendship dinner held at St. Phillip's Baptist Church. The audience — longtime residents, new immigrants, students from nearby institutions of higher education, area police officers, and others — participated with the actors to identify ways to diffuse tensions and make the community more harmonious and inclusive.
Port Richmond, a community on the north shore of Staten Island, was once the borough's commercial center; however, the neighborhood lost much of its economic activity to large suburban shopping centers. Over the past decade, a large increase in Hispanic residents, predominantly Mexicans, have transformed parts of Port Richmond, including some areas that had been primarily inhabited by African Americans. The demographic changes have created some tension between longtime residents and newcomers although Port Richmond is generally an immigrant-friendly community.
The community theater performance in Port Richmond was supported with funding, student help, and a venue by the Port Richmond Partnership. A joint effort dating from 2008 between Wagner College, a small liberal arts college of about 2,200 students on Staten Island, and several Port Richmond organizations, the partnership combines assets from the college and the community to resolve issues such as racial tension and economic decline.
Building a Better Port Richmond
As a member of the partnership, Wagner places students and faculty in the Port Richmond community to collect data, conduct research, disseminate information, and participate in service activities. Wagner chose to concentrate its outreach efforts in Port Richmond because many of the neighborhood's community organizations expressed interest in working with the college. Wagner's efforts within the partnership fall into four general categories — immigration, economic development, education, and healthcare — that encompass many of the issues Port Richmond faces.
In addition to staging the community theater performance, Wagner students have taught English as a second language at El Centro del Inmigrante and other partner organizations. University students have also helped children of immigrants with their homework and written profiles of both documented and undocumented immigrants for the local newspaper to help humanize immigration issues.
Wagner Aids in Sandy Recovery
Staten Island was not spared as Hurricane Sandy churned its way up the eastern seaboard in October 2012. Although Wagner College was largely evacuated in preparation for the storm, upon their return, students quickly mobilized to help their neighbors who suffered storm damage and other adverse effects. With assistance from college administrators, students created Wagner Cares to help identify volunteer opportunities for students, coordinate relief efforts, and raise money for recovery. Wagner also arranged for its athletic teams to assist in relief efforts such as delivering drinking water and other supplies to affected families and helping to clean up homes damaged by the storm. To continue providing relief to the hard-hit communities on Staten Island, Wagner's 2013 Alternative Spring Break trip focused on Hurricane Sandy recovery projects. Wagner hosted students from six other colleges who, along with Wagner students, recorded stories of children who experienced the storm, collaborated with community activists, and helped renovate damaged homes.
Wagner students are active in addressing important health issues affecting Port Richmond youth. At Port Richmond High School, Wagner freshmen worked with the high school's senior class to arrange an adolescent health festival promoting awareness of health risks and disease prevention. Together, the students surveyed younger high school students and gathered evidence to support providing sex education classes early in the high school curriculum.
The partnership is also looking into community banking to improve Port Richmond's economic viability. To help entrepreneurial immigrants struggling to obtain loans, the partnership is exploring a relationship with commercial banks or the creation of a credit union to serve immigrants who are having difficulty opening an account with an American bank. The bank or credit union could offer checking and savings accounts to residents, including day laborers, who are often robbed because they carry large amounts of cash. Additionally, Wagner faculty and students have advised local business owners on marketing and other business development opportunities.
Wagner has also recently expanded its efforts in Port Richmond to include arts and public life, according to Dr. Stephen Preskill, distinguished professor of civic engagement and leadership. A faculty member from the college's art history department is collaborating with El Centro del Inmigrante to apply for a New York City Department of Transportation grant that funds artwork in distressed communities. Wagner is also interested in continuing to use community theater to address local issues.
A Focus on Civic Engagement
Community engagement has become a central component of education at Wagner under President Richard Guarasci. In addition to the Port Richmond Partnership, Wagner participates in Project Pericles along with other universities that have committed to including "social responsibility and civic concern" in their curricula. Wagner's guide for undergraduate academic studies, the Wagner Plan, requires all students to complete three learning community programs during their time at the college. Students participate in one program during their freshman year, another during their sophomore or junior year, and a final one during their senior year.
Wagner's Center for Leadership and Engagement (CLE) manages most of the college's other community engagement efforts. CLE is a coordinator or partner in several programs, including a financial assistance program for high-needs students involved in the community, a community service and internship program, and a leadership program for student athletes. Some of the students from these programs and Wagner's learning community programs work with the Port Richmond Partnership.
An Authentic Community Partner
More than 1,000 Wagner students and faculty had worked with the Port Richmond Partnership as of 2012. Wagner hopes that, in addition to providing a transformative experience for students, the partnership's work will result in demonstrable outcomes in Port Richmond, such as lower rates of type 2 diabetes, accelerated small business development, and increased college readiness among community residents. Wagner is currently discussing how to better evaluate its impact in Port Richmond. However, Dr. Timothy Shaffer, director of CLE, recognizes that more broadly assessing Wagner's efforts could prove difficult because the college is one of many community organizations working together to improve Port Richmond.
In addition to enhancing student learning through civic involvement, Wagner seeks to be an authentic community partner. According to Shaffer, Wagner fosters efforts that involve "complementary partnerships rather than just volunteering." The college identifies opportunities for sustained community involvement and carefully matches students and faculty with community projects. To better understand community needs, CLE recently added a feature to its website where members of the partnership can propose ideas and projects. As Shaffer describes it, Wagner wants to "help build the community that the community wants," rather than imposing projects on the community.