December 2015 |
Volume 4, Issue 1
IN THIS ISSUE:
Grantee Spotlight: Southern University at Shreveport Helping Revitalize the Martin Luther King Neighborhood
Convening Partners with an Urban Extension at Drexel University's Dornsife Center
Creating a Culture of Health: the Role of Hospitals and Healthcare Systems

---
Convening Partners with an Urban Extension at Drexel University's Dornsife Center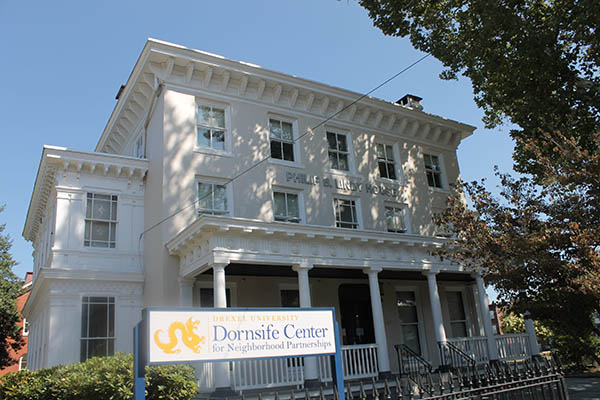 The Dornsife Center is a new forum for the community and Drexel University to share ideas and initiatives.
Drexel University and the adjacent West Philadelphia neighborhoods now have a place where they can collaborate on issues of mutual concern. Established in 2013, the Dana and David Dornsife Center for Neighborhood Partnerships is providing "a greater good for the community," according to Rebecca Rose, local artist and member of the Mantua Beautification Committee. The university and community share resources, services, and programs in 3 historic buildings on the 1.3-acre site at the border of the Mantua and Powelton Village neighborhoods. As part of Drexel's institution-wide efforts to work with the community, the university encourages each of its 15 schools and colleges to conduct programs at the Dornsife Center.
Partnering for the Future
Inspired by the agricultural extension programs at land grant institutions throughout the U.S., the Dornsife Center is the first urban extension center managed by a private university.  At the Dornsife Center, Drexel professors, staff, and students establish relationships with neighborhood residents and business people – and with one another – that often form the basis of lasting community development alliances. It is not surprising, then, that the university views the center as the "cornerstone of Drexel's community commitment."
An important opportunity to build sustained and trusting partnerships came during the initial planning for the center. According to Jennifer Britton, the Dornsife Center's launch director, "We knew that, to succeed in building a truly collaborative neighborhood resource, we had to be transparent and inclusive from the start." Drexel representatives and 65 community members participated in a workshop to define the center's purpose and function. Growing out of the initial meeting, an advisory council that includes community stakeholders meets monthly to maintain this shared vision.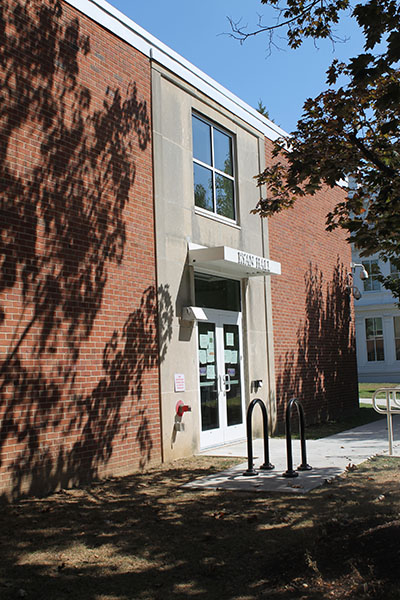 One of the three buildings at the Dornsife Center is Ryan Hall, a former public school, offering technological resources and courses.
Historic Revitalization for Community Good
Philadelphia philanthropist Philip B. Lindy secured the site for the center, which in turn helped garner a $10 million donation from Dana and David Dornsife. In addition, Pennsylvania's Historic Preservation Tax Credit program and the New Markets Tax Credit program helped fund renovation of the site's three buildings. Various foundations and private donors, including the Lindy family, have provided additional financial support for programs and operations.
The Dornsife Center began offering community programs shortly after site acquisition, despite the need for renovations. To ensure the best use of the available space, the advisory council collaborated with university departments and BLT Architects to plan all renovations. The result is a venue that can accommodate a wide range of programs.
Sharing Strengths
The center provides programs in six key areas: Kids and Families, Entrepreneurship and Capacity Building, Creating Knowledge Together, Arts and Culture, Health and Wellness, and Building Your Financial Health. Ten of Drexel's 15 colleges and schools have partnered with the Dornsife Center to develop and conduct programs. According to Britton, the most effective academic partners incorporate Dornsife activities into their departmental missions and curricula. For example, the Kline School of Law has sharpened its focus on social justice by opening a community lawyering program and pro bono clinic at the center. Drexel's performing arts department has also embraced the center's mission, hiring an assistant professor of dance to run community dance courses at Dornsife. Other departments provide technological resources and courses, health and wellness programs, homework assistance, collaborative arts projects, and demonstrations in architecture and environmental engineering, all of which are free.
Moving Forward Together
After two years of operation, the Dornsife Center has become an important forum for sharing resources and fostering community collaboration. In addition to involving most of the university's colleges, the Dornsife Center has engaged 43 of Drexel's nonacademic offices and organizations (as of August 2015) to work with and learn from community members. To ensure a lasting, positive impact, Dornsife Center staff "are constantly engaging the community on needs and whether the programs are effective," according to Rose. To continue the dialogue that began during the planning process, the Dornsife Center has hosted monthly community meals since 2013. Attendance has grown to more than 200 in June 2015, with book giveaways for youth, live music for the entire family, and informal conversations among university and community diners. In many ways, the Dornsife Center has quickly become a valuable community asset.
Source:
Drexel University. n.d. "Programs." Accessed 13 August 2015; Correspondence from Jennifer Britton, 27 August 2015.
×