December 2015 |
Volume 4, Issue 1
IN THIS ISSUE:
Grantee Spotlight: Southern University at Shreveport Helping Revitalize the Martin Luther King Neighborhood
Convening Partners with an Urban Extension at Drexel University's Dornsife Center
Creating a Culture of Health: the Role of Hospitals and Healthcare Systems

---
Creating a Culture of Health: the Role of Hospitals and Healthcare Systems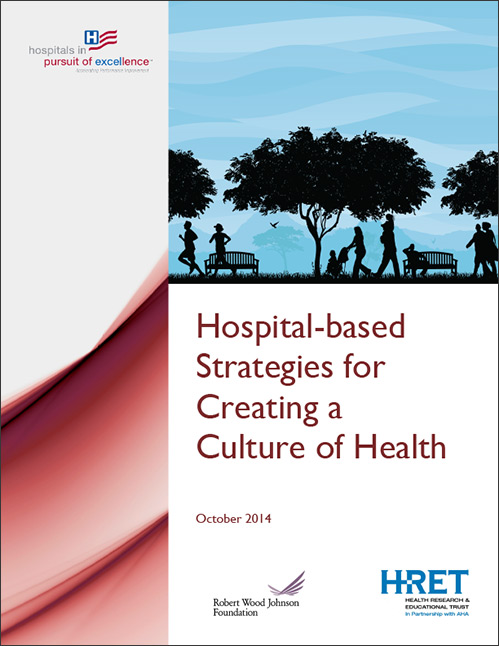 The Health Research & Education Trust has authored "Hospital-based Strategies for Creating a Culture of Health," which describes how health institutions can join with other community stakeholders to foster conditions for all people in a community to become and stay healthy.
The U.S. healthcare system is in the midst of a transformation brought on in part by the Affordable Care Act, which emphasizes preventive care and healthy living. Hospital and healthcare systems are in a unique position to partner with communities and other stakeholders to address the behavioral, socioeconomic, and environmental factors that affect health, according to a recent report issued by the Health Research & Educational Trust, the research and education affiliate of the American Hospital Association. The report, "Hospital-based Strategies for Creating a Culture of Health," reviews recent approaches health institutions have taken to improve community health. The review presents the most important community health needs that hospitals have identified, types of community health partnerships, and case studies of the interventions that 10 hospitals and healthcare systems have used. In addition, the report provides a strategic framework for health institutions, along with innovative approaches they may wish to pursue in developing a culture of health in their communities.
A Culture of Health
The Robert Wood Johnson Foundation, which helped prepare the report, is a catalyst for a holistic, integrated approach to building a culture of health. According to the foundation, a culture of health is one where "getting healthy and staying healthy is a fundamental and guiding social value" (p. 3). A culture of health improves the well-being of the community and is based on all stakeholders — individuals, businesses, organizations, and government as well as health institutions — working together to promote health and healthy living for everyone. To foster a culture of health, the foundation also argues that community stakeholders must measure the effectiveness of their efforts over time.
A Strategic Framework for Health Institutions
The report suggests a framework of strategic considerations that hospitals and healthcare systems should weigh as they create a culture of health in their communities. These considerations relate to leadership, resources, and areas of expertise of the health institution and the community, as well as the involvement of other stakeholders. By assessing these internal and external considerations, a health institution can define its role in the community's health initiatives.
The framework lists four roles that a hospital may take on. The role of a Specialist is highly focused on its area of expertise and targeted in the scope of its health interventions. As a Promoter, a healthcare system supports the initiatives of other organizations while promoting comprehensive, holistic health initiatives in the community through policy or educational activities. Institutions that work on specific community issues but have the resources and influence to bring together stakeholders might take on the role of Convener. The report also describes a fourth role as an Anchor, which has strong, active partnerships with a wide range of community stakeholders. In the Anchor role, the organization has completely integrated the idea of holistic health into its mission, addresses socioeconomic drivers of health, and develops infrastructure that improves health. The authors stress that not all health institutions should take on the role of Anchor and that the other roles are important for creating a culture of health in a community.
Approaches to Foster a Culture of Health
Whichever role a health institution assumes, the most innovative hospitals and healthcare systems have had success by using 10 approaches to developing a culture of health. A primary approach is to create clear leadership roles and obtain clear commitments from key stakeholders in the institution, including board members and executive-level leaders, as well as from the community. In addition, stakeholders need to be aligned along clearly defined goals, and resources should be allocated effectively. Of course, an institution will want to identify a set of measures for the health issues they address, evaluate progress, and determine ways of ensuring that the initiatives are sustainable and replicable. A health institution will have to adopt approaches that are tailored to its particular characteristics and the capabilities and goals of the community.
Collaboration is Key
According to the authors, the United States "is at a critical juncture as the healthcare system transforms to prioritize preventive care and health promotion" (p. 25). The report states that health institutions should collaborate with community members and stakeholders to become catalysts for change in communities. Effective collaboration will not only increase the level of resources and expertise of health institutions but will also extend the scope and reach of their services. Ultimately, collaboration is key as stakeholders work toward the shared goal of building a culture of health.