HUD USER Home > OUP > Publications > Newsletters
Archived Newsletters
Partners in Progress eNewsletter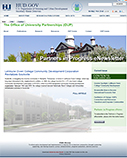 The Partners in Progress eNewsletter showcases institutions of higher education that have joined with local leaders and organizations to improve their neighborhoods or the community at large. The newsletter focuses on OUP programs and grantee activities, describes partnerships that result in noteworthy community and economic development, and summarizes significant publications about how anchor institutions and communities work together for their mutual benefit.

Archived Print Newsletters
To request a hard-copy version of one of the newsletters listed below, please call the HUD USER Clearinghouse (formerly University Partnerships Clearinghouse) at 1-800-245-2691 and choose option 1 from the voice menu.
The following OUP newsletters are no longer in production. However, old issues of these newsletters are accessible in Portable Document Format (PDF) through the links below.