September 2011 | Volume 10 Issue 5
IN THIS ISSUE:
Cutting-Edge Green Affordable Housing in El Paso, Texas
States form Partnership to Promote Sustainable Development
Cottage Housing Development Showcases Sustainability Principles
States form Partnership to Promote Sustainable Development
In 2010, nine cities, two counties, and six metropolitan and regional planning organizations in the states of New York and Connecticut came together to create a unique partnership with a common goal of guiding the region's growth in a sustainable and equitable direction. To put their ideas into practice, the partnership — New York-Connecticut Sustainable Communities Consortium — applied for and received $3.5 million in federal funding through the Partnership for Sustainable Communities Sustainable Communities Regional Planning Grant program. A key initiative of the Partnership for Sustainable Communities — an interagency partnership between the U.S. Office of Housing and Urban Development, the U.S. Department of Transportation, and the U.S. Environmental Protection Agency — is to provide funding for regional planning efforts that integrate housing, transportation, economic, and infrastructure development. This article looks at the Consortium's goals and planning efforts to create sustainable communities.
New York-Connecticut Sustainable Communities Consortium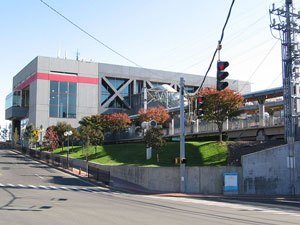 A view of Metro-North railroad station in Stamford, Connecticut. The New York-Connecticut (NYCT) region is home to more than 14 million people, residing in some of the most densely populated areas in the nation. The region is served by an extensive public transit network — the transportation network of the Metropolitan Transportation Authority serves 14.6 million people in a 5,000 square mile area of New York City, Long Island, southeastern New York, and Connecticut, with an average weekday ridership of 8.5 million. The Consortium's focus is to leverage the region's transit assets to build livable communities by supporting mixed-income housing, employment, and other infrastructure development around major transit nodes. Overarching goals for the bi-state Consortium include: (1) ensuring that existing regional plans are properly aligned and meet federal, state, and local policies; (2) creating active committees that include a diverse network of stakeholders; (3) providing analysis that will reduce impediments to affordable housing in transit-oriented developments (TODs); (4) developing local planning and building strategies to better prepare localities for climate change and any corresponding rise in sea level, and; (5) developing new mixed-income housing near transit-accessible and energy-efficient locations.
Recipients of the Sustainable Community Regional Planning Grant are charged with the implementation of 16 interrelated, regional projects. These projects are geographically based in New York City, Long Island, Connecticut, and Hudson Valley, as well as three region-wide projects synthesizing grant activities to guide sustainability at the regional and local levels. Each project was selected based on a combination of existing regional and sustainability plans and NOFA requirements for the Sustainable Communities Regional Planning Grant. The Regional Plan Association administers the grant money.
The Suffolk County, New York Transfer of Development Rights Program
Under the New York-Connecticut initiative, $324,000 will be granted to Suffolk County for a comprehensive analysis of the Suffolk County Transfer of Development Rights (TDR) program and to develop recommendations to make it more efficient and supportive of sustainable development. The county's TDR program has been criticized as being ineffective and underutilized (due in large part to the voluntary nature of the program). This new analysis aims to find ways of expanding workforce housing and TODs. Other targets include identifying ways to make the program mandatory and to expand its scope to include affordable rental housing and downtown revitalization measures.
The Barnum Station Project in Bridgeport, Connecticut
Located in Connecticut, the Bridgeport Barnum Station project has been awarded an $186,000 grant to conduct a feasibility study on constructing a commuter rail station around the distressed neighborhoods of East End and East Side. The station is envisioned as an anchor to the city's redevelopment planning efforts. Results of the study will help promote mixed-use TOD and affordable housing, as the proposed station is seen as a catalyst for community revitalization.
Conclusion
Using funds from the Sustainable Community Regional Planning Grant program, the New York-Connecticut Sustainable Communities Consortium is addressing the multifaceted challenges of a large, multijurisdictional metropolitan area seeking to strengthen its region. Through the creation of new affordable housing, added transportation options, infrastructure development, and new economic opportunities, the Consortium is steps closer to implementing its regional sustainable development plan.