Smart Growth Zoning in Massachusetts
In 2004, the Massachusetts Legislature adopted a smart growth zoning law, known as Chapter 40R, designed to promote smart growth development and increase housing production. The voluntary smart growth zoning tool was intended to complement the existing Chapter 40B statute, which is the state's mandatory inclusionary housing law. This article takes a closer look at Chapter 40R and the results it has achieved so far.
Background
"The Commonwealth of Massachusetts has a housing problem," begins a 2003 report prepared by the Commonwealth Housing Taskforce, a group comprised of representatives from housing organizations, local governments, nonprofits, academic institutions, and various business organizations in the state. The taskforce came together in 2001, at a time when Massachusetts' median home prices were among the highest in the nation; a condition that has forced many young residents to move out of the state in search of a lower cost of living. In its report, the Taskforce attributed the high housing costs to an inadequate housing supply (resulting from restrictive zoning regulations), and proposed a new initiative designed to increase housing production by encouraging localities to expand the amount of land zoned for higher-density residential use. The following year, Massachusetts adopted Chapter 40R, incorporating many of the Taskforce's recommendations.
Smart Growth Zoning Overlay Districts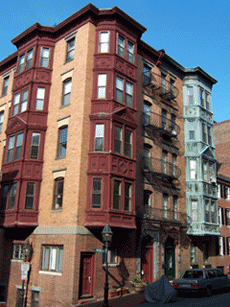 Chapter 40R encourages communities to adopt Smart Growth Zoning Overlay Districts, which will provide a range of housing opportunities by offering a variety of financial incentives. The overlay districts must be located in proximity to transit, within city centers or commercial districts, and be capable of supporting high-density residential or mixed-use development. Minimum density requirements imposed by Chapter 40R dictate that communities choosing to create the overlay districts must allow densities of 8 units per acre for single-family units, 12 units per acre for two- and three-family units, and 20 units per acre for multifamily projects. The law also requires that 20 percent of new housing located within the district be affordable to households earning less than 80 percent of the area median income for a period of 30 years. Any residential or mixed-use development project in the district must be allowed as-of-right. However, the law provides a measure of control to local governments by allowing communities to adopt subdistricts, impose design requirements, and require site plan reviews for proposed developments within the districts.
Financial Incentives
In exchange for creating the overlay districts, which cannot exceed 15 percent of a community's land area, jurisdictions receive payments from a trust fund administered by the state. These payments, ranging from $10,000 to $600,000, depend on the number of new housing units that can be developed as-of-right within a district. Communities also receive bonus payments of $3,000 per new housing unit for which a building permit has been issued. New housing is often equated with an influx of school-aged children and consequently, added cost burden on public school systems. To address this issue, Massachusetts adopted Chapter 40S in 2005. Chapter 40S reimburses communities for the costs associated with increases in the student population attributable to the addition of new housing units in smart growth zoning overlay districts. Payments are calculated by subtracting new revenues from the overlay district that will go to fund education and the increase in state educational aid as a result of new students from the proposed cost. Communities that adopt the overlay district also receive preference with respect to discretionary funds.
Conclusion
Chapter 40R is garnering a lot of interest from local governments owing to its flexibility, focus on smart growth, and the provision of financial incentives. The Commonwealth Housing Taskforce estimated in 2003 that the new initiative would result in 33,000 new housing units over the next 10 years. As of July 2009, the state's Department of Housing and Community Development, which serves as the regulatory agency for Chapter 40R, has approved 27 overlay districts. Combined with 7 more that are pending approval, these districts allow for a total of 10,606 new market-rate and affordable housing units in the state. Although the recent downturn in the housing market has improved affordability in the Bay State to a certain extent, young workers still struggle to find decent, affordable housing in close proximity to employment locations. Chapter 40R is proving to be a strong planning tool that helps alleviate the state's housing problem by encouraging communities to take an active role in promoting higher-density residential and mixed-use developments.