April 2012 |
Volume 1, Issue 2
IN THIS ISSUE:
Funding and Incentivizing Energy-Efficient Building Retrofits
Turning Blighted Properties into Pocket Parks: Los Angeles Case Study
Fireclay Village: A Model for Sustainable Growth
Grantee Spotlight: Plan East Tennessee

---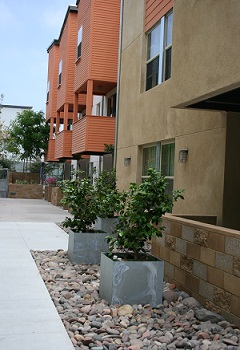 Courtyard view of Lillian Place development in San Diego, California. Image courtesy of Low Income Investment Fund (LIIF). In the United States, residential buildings account for 12 percent of the nation's energy consumption, 36 percent of electricity consumption, and 22 percent of the country's greenhouse gas emissions. Energy-efficiency retrofits can conserve resources, reduce greenhouse gas emissions and air pollution, improve quality of life for residents, create jobs in construction, and save money in the long run by reducing utility costs. A 2010 HUD study suggested that efficiency improvements for energy and water systems in the nation's 1.2 million units of public housing would, through reduced utility bills, pay for themselves in 12 years. Similarly, Retrofit Ramp-Up, a $425 million energy-efficiency retrofit program launched in 2009 by the Department of Energy, is expected to create 30,000 related jobs in three years. As a result of these upgrades, homes and businesses are expected to save $100 million a year on utilities.
But to some rental-property managers, the upfront costs of implementing energy-efficiency initiatives are an impediment. An added challenge, explains Kimberly Latimer-Nelligan, chief operating officer of the Low Income Investment Fund (LIIF), is that these loans are typically smaller, time intensive, and fragmented. As a result, lenders are typically disinclined to make such loans. Property managers of affordable, multifamily, and low-income developments typically operate within thin profit margins, making additional borrowing riskier to fund these upgrades, says Latimer-Nelligan.
To address these challenges, in spring 2011, Bank of America announced its Energy Efficiency Finance Program, which provides $55 million in low-interest loans and grants to community development financial institutions (CDFIs). In November, following a rigorous competitive process, the bank chose nine CDFIs to receive the funds: Boston Community Capital (Boston); Community Investment Company (Chicago); Enterprise Cascadia (Seattle); Enterprise Community Partners (nationwide); Grow America Fund (New York); IFF (Chicago); Low Income Investment Fund (San Francisco and Los Angeles); Self Help (Charlotte); and The Reinvestment Fund (Baltimore and Philadelphia). The Bank of America funds are earmarked for energy-efficiency upgrades in low-income communities, which vary depending on the property's needs, climate, and other variables. Typically, these upgrades include better insulation, doors, and windows; energy-efficient appliances; improvements to building exteriors; mechanical upgrades; and measures that conserve water. Overall, the Bank of America program is expected to make improvements on some 15,000 homes, in addition to retrofitting numerous commercial buildings, schools, and other community stock.
Encouraging Property Managers to Retrofit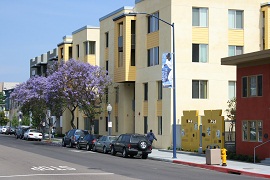 Street view of Lillian Place development in San Diego, California. Image courtesy of Low Income Investment Fund (LIIF).
Latimer-Nelligan explains that the Bank of America program is appealing to property managers for several reasons. First, and foremost, property owners are guaranteed that their loans will be repaid through the money saved on utility costs. For instance, LIIF is partnering with Stewards of Affordable Housing for the Future (SAHF) to roll out some $8 million in retrofits ($5.5 million of which is coming from the Bank of America program). To guarantee property owners that these loans will be repaid, LIIF and SAHF are working with Johnson Controls, a Milwaukee-based energy services company, which will guarantee the loans based on expected reductions in energy bills.
The program's educational component is another element that makes it an attractive program and suggests its long-term viability, says Latimer-Nelligant. Owners, tenants, and staff at each property attend an education program sponsored by grants from Bank of America and the Department of Energy. The program is intended to promote smart energy use at the property and unit level.
Finally, as Latimer-Nelligan points out, residents benefit. "The most obvious benefit for the residents initially will simply be living in healthier, safer buildings as a result of the energy-efficiency measures," she says. "They will get the benefits of the energy-efficient environment for zero cost."
Measuring Retrofits' Utility Savings
As part of the program, Bank of America requires data on energy-use levels after the retrofits are completed. Bank of America has contracted with Bright Power, a green building and renewable energy consultant that will collect this data, and plans to publish the results in 2015. Latimer-Nelligan adds that the properties in the SAHF portfolio will also undergo post-retrofit testing to ensure that the upgrades are producing the expected savings. If the Energy Efficiency Finance Program succeeds, Latimer-Nelligan and others are looking to the program as a model for incentivizing energy-efficiency retrofits for low-income rental properties on a large scale.
If you would like to learn more about ways in which sustainability is being defined, measured, and practiced throughout the U.S., please refer to the Summer 2011 issue of Evidence Matters.