Utah's Wasatch Front — a long and narrow region that houses 80 percent of the state's population — faces significant geographical challenges to accommodate future growth. To the east of the valley, developable land is confined by the steep topography of the Wasatch Mountain Range. To the west, the valley's boundary is defined by Utah Lake. Because of the narrow north-south orientation of the 80-mile long valley, transportation choices and the orientation of future development are at the forefront of regional plans.
Envisioning a Smarter Way to Grow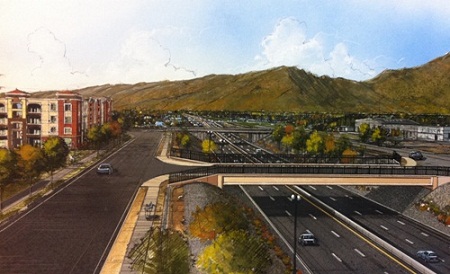 Rendering of a new bridge and Fireclay Village (left). Image courtesy of Miller Development Group.
Utah is one of the nation's fastest growing states. Over the next 30 years, local authorities expect the population along the Wasatch Front to increase by 65 percent, or 1.4 million people. Transit expansion, including a new commuter rail line running along the Wasatch Front, is already underway to accommodate the growth. The commuter rail line, UTA FrontRunner, is expected to provide the region's population with an environmentally sound transit option. To prevent sprawl and better respond to consumer demand for home and rental housing, some suggest that transit-oriented development (TOD) is not just essential, but urgent.
TODs are described by the Federal Transit Administration as compact, mixed-use developments located near transit facilities. Generally, TODs offer compact living and feature apartments located over retail and commercial spaces. TODs are often created around mass-transit centers to revitalize underdeveloped or abandoned sections of town. In numerous studies, TODs have been shown to promote sustainable growth by creating communities that leverage investments to expand regional transit options. At the same time, the increased market demand for living near transit is challenging the ability to ensure affordability for low-income families. One city in particular — Murray City, Utah — committed to developing a mixed-use project in 2010, in part to encourage affordable housing development near transit.
Fireclay: Expanding Housing Opportunities Near Transit
Developers in Murray City, Utah recently broke ground on Fireclay Village, a transit-oriented development and one of the city's largest developments to date. When completed in 2013, Fireclay Village will include one million square feet of new residential space, housing 1,670 people, and 94,000 square feet of retail space in a mixed-use, mixed-income neighborhood. Fireclay Village is expected to create affordable workforce housing, adjacent to the UTA FrontRunner line and other mass transit options. The development is expected to satisfy the city's long-range housing strategy, which focuses on increasing homeownership and rental opportunities for low- and moderate-income households.
The first phase of construction will create 400 market-rate rental apartments known collectively as Lions Gate at Fireclay. The second phase will create 268 income-restricted workforce housing units known as Brick Gate at Fireclay, which will target individuals such as teachers, firefighters, and municipal workers. To qualify for Brick Gate housing, prospective residents can earn no more than 60 percent of the area median income (about $61,000). Rent for a two-bedroom apartment in Brick Gate is estimated to cost $878 per month, compared with the market rate of $970–$1,020 per month for a comparable apartment at Lions Gate. In addition to creating affordable workforce housing, Fireclay Village combines housing with retail and commercial amenities in the 15-building, urban-style neighborhood. The development promotes a walkable community that also serves as a tourist attraction. Residents will share green space, including four miles of walking trails. The development also occupies the site of a former brick factory, thereby preserving community history and rehabilitating an abandoned site.
Fireclay Village satisfies renter demand for housing that might not otherwise be available. "There's significant demand for additional entry-level affordable homes and rentals in the area," says Jay Minnick, President of Miller Development Company (MDC). Rent prices in Murray have increased since 2010, Minnick explains, while vacancy rates in the city are decreasing. The development promises to have a significant effect on the local job economy as well. MDC Vice President Misty Deakin adds, "With approximately $46 million in construction costs on both jobs over the next year and half, [Fireclay Village] will create an average of 2,000 jobs, $60 million in wages, and $6 million in state and local taxes."
According to MDC officials, private-public funding partnerships were key to making the TOD a reality. Lions Gate, for example, was financed by PNC Bank and federally insured by HUD's Rental and Cooperative Housing program. Brick Gate was similarly financed, with the addition of equity from the City Real Estate Advisors, Inc., and municipal bonds awarded by Utah's Private Activity Bond Review Board that were purchased under the Board's new bond issue program. "The interagency collaboration to make Fireclay Village a reality may be a model for TODs elsewhere in the state," Minnick concludes.