April 2013 |
Volume 2, Issue 2
IN THIS ISSUE:
Green Infrastructure Aims to Reshape Philadelphia
Grantee Spotlight: Planning for Livable Military Communities
Connecting Affordable Housing and Public Transportation in Los Angeles
Energy-Efficiency Program Targets Affordable Housing Preservation

---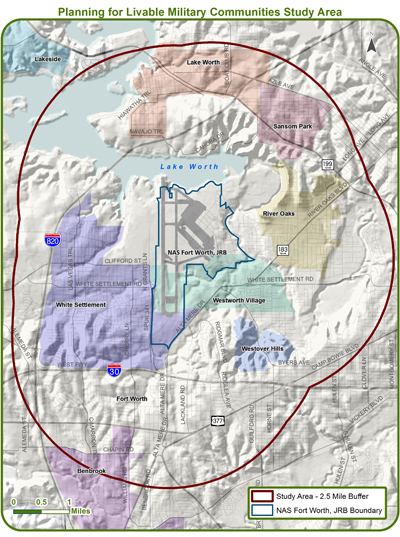 The PLMC Study Area encompasses a 2.5-mile buffer around NAS Fort Worth JRB and includes the communities of White Settlement, Fort Worth, Westworth Village, Westover Hills, River Oaks, Sansom Park, Lake Worth, and Benbrook. Image courtesy of North Central Texas Council of Governments.Tarrant County, Texas is home to Naval Air Station Fort Worth Joint Reserve Base (NAS Fort Worth JRB), a military base that has remained a source of community pride since the early 20th century. The airbase is also one of the largest employers in the county, with over 11,000 active, reserve, and civilian workers. In addition, NAS Fort Worth JRB presents important challenges for Tarrant and its adjacent counties, including safety, affordable housing, transportation access, and land-use compatibility between military and residential uses. The North Central Texas Council of Governments (NCTCOG), which represents 16 counties in the Dallas-Fort Worth area, highlighted many of these issues in its 2008 Joint Land Use Study. NCTCOG is following up the study with the Planning for Livable Military Communities (PLMC) project, which will help local governments implement the study's recommendations and support compatible living around the military base.
Set for completion in spring 2014, PLMC is being prepared by a project advisory committee consisting of representatives from the cities of Fort Worth, Benbrook, Lake Worth, River Oaks, Sansom Park, Westworth Village, and White Settlement. NCTCOG staff are supporting the committee and administering the project, which was funded by a $640,000 FY 2010 HUD Community Challenge Planning Grant and $160,000 in local money. Tamara Cook, NCTCOG's project manager, hopes PLMC will help local governments develop visions, plans, and implementation projects that address economic development, transportation, and land-use needs in the communities adjacent to NAS Fort Worth JRB.
Housing and Transportation Assessments
Housing and transportation are two major tasks of PLMC. Project staff prepared the Real Estate Market Analysis that summarizes regional economic trends and provides information on the area's office, industrial, and retail markets in terms of construction, existing developments, and employment. A separate housing market analysis is currently under review. As part of the housing analysis, NCTCOG conducted public meetings to discuss housing-related concerns. Cook stresses the importance of educating and involving community residents in discussions about the benefits of diverse housing types for seniors, low-income families, and other underserved groups. NCTCOG is searching for partners in the county to facilitate communication between developers and communities and is looking into existing funding sources such as HUD's Community Development Block Grant and HOME Investment Partnerships programs to provide affordable housing.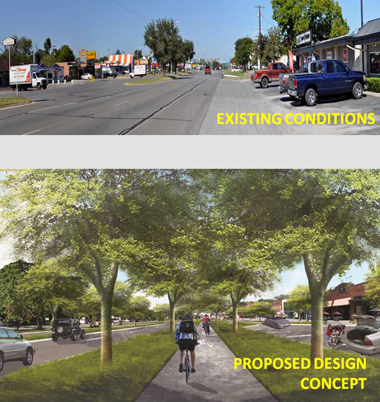 PLMC proposes street improvements that include facilities to accommodate multi-modal transportation. Image courtesy of North Central Texas Council of Governments.
For PLMC's second major task, a transportation assessment solicited input from local government and base personnel about transportation and mobility issues. The assessment highlighted demand management strategies such as telecommuting, rideshare programs, and flexible work schedules. The assessment also proposed near-term road network improvements such as posting directional signs to the airbase and other major destinations, as well as more costly and complex long-term projects to increase roadway connectivity and to redesign access points to the airbase. Some concerns addressed by the assessment are unique to the airbase, including efficient transportation infrastructure and public transportation to and from NAS Fort Worth JRB that also maintains security and emergency preparedness. As a step toward implementing the transportation assessment, in-depth technical studies have been conducted on public transportation options, regional bicycle and pedestrian route connectivity, and school zone safety.
Sound Attenuation and Energy Efficiency in Housing
Addressing a minor task of PLMC, NCTCOG staff evaluated existing residential building codes — based on the International Residential Code — to compare the codes' sound attenuation measures with those recommended by the Navy. Local building code experts will review the suggested standards for noise mitigation and energy efficiency to determine whether any Navy measures should be incorporated into local building codes. Some communities have adopted noise mitigation requirements in residences, and NCTCOG plans to showcase these as best practices for the remainder of the study area.
A Model for Regional Collaboration
PLMC staff members are currently assessing public feedback gathered in 2012 and incorporating it with the results of the housing and transportation studies and review of communities' ordinances. Local government officials will then be able to use that information to update their individual city plans and create a regional comprehensive plan — PLMC's final task. According to Cook, the most critical part of the process will be when community leaders begin to confront the issues identified by PLMC. As a starting point, NCTCOG has already connected mayors and city managers who are identifying common themes among the communities. PLMC has illustrated the need to form partnerships to overcome financial and logistical challenges, and to evaluate quality of life issues such as school quality and safety. Cook believes that PLMC, made possible by the Community Challenge Planning Grant, can "serve as a model of regional cooperation to accomplish complementary needs and goals of several communities."