April 2013 |
Volume 2, Issue 2
IN THIS ISSUE:
Green Infrastructure Aims to Reshape Philadelphia
Grantee Spotlight: Planning for Livable Military Communities
Connecting Affordable Housing and Public Transportation in Los Angeles
Energy-Efficiency Program Targets Affordable Housing Preservation

---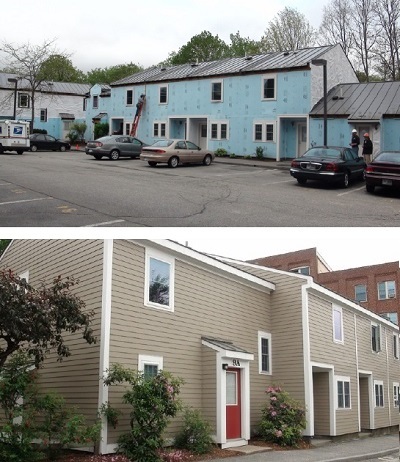 Deep energy-efficiency retrofits financed through the Greener Homes program are helping preserve the affordable housing stock in New Hampshire.
Image courtesy of Cheryl H. Tamura
Residents of New Hampshire are burdened with some of the highest home heating costs in the country. The number of heating degree days in the state exceeds the national average, and nearly 50 percent of households depend on fuel oil to heat their homes, compared with approximately 6 percent nationally. These factors place thousands of assisted affordable units in the state at risk of being converted to market-rate apartments as rising utility costs make the developments more costly to operate and maintain. In an effort to help preserve the state's affordable housing stock, the New Hampshire Housing Finance Authority introduced the Greener Homes program in 2011 to lower property owners' operating costs through energy-efficiency improvements and technology-modernization projects.
Using $2 million from the New Hampshire Public Utilities Commission's Regional Greenhouse Gas Initiative, the program leveraged $3 million in HOME Investment Partnership funds and an additional $1 million from the U.S. Department of Energy's Weatherization Assistance Program to create a fund to finance energy-efficiency improvements in multifamily units. Participating housing providers receive a forgivable loan to fund the retrofits in exchange for a 20-year affordability extension placed on the property. The program targets energy innovation and modernization projects, as well as "deep retrofits" that significantly upgrade the performance of the building's mechanical systems and envelope. "We have thousands of affordable units across the state that were built in the 1970s and 1980s where rising operating costs threaten their ability to house low-income families," said Jane Law, communications director for the New Hampshire Housing Finance Authority. "The Greener Homes program was designed to reach units that were most at risk and where savings would be the most significant."
One such project, in the state's capital of Concord, was in service for only a few years before the nonprofit that owns and operates the facility was struggling to pay the heating bills. Since 2004, Families in Transition has operated 16 units of affordable housing and supportive housing for formerly homeless single mothers in two buildings on downtown Concord's Bicentennial Square. According to Maureen Beauregard, the organization's president, the heating costs for the buildings ballooned to $47,000 annually, more than triple the expected cost the project's financials were modeled from. "We raised $100,000 in emergency funds for this facility… but in a few years, these reserves were used to pay the heating bills."
The Greener Homes program provided desperately needed funds to retrofit the heating systems in Families in Transition's two buildings. With $175,000 in capital, the organization installed high-efficiency gas boilers — which replaced a district steam heat source — and six solar water preheating panels. Beauregard estimates that this relatively straightforward conversion reduced heating costs by $35,000 annually and has made operating the facility financially feasible once again.
In the northern part of the state, the Greener Homes program has allowed the nonprofit housing developer Affordable Housing, Education and Development (AHEAD) to undertake deep retrofits at three properties that provide 89 units of senior housing. At the organization's Lisbon Inn in Lisbon, 20 units received comprehensive energy-efficiency upgrades as part of a larger capital improvement program. Foam insulation was installed along the exterior walls in each unit, and windows were upgraded throughout the building. These improvements did not displace any residents; to prepare for the improvements, AHEAD left a small number of units vacant as residents moved out, so that current residents could occupy them while their own units were being upgraded.
According to Olivia Beleau, senior project manager for AHEAD, the upgrades at Lisbon Inn reduced heating demand by nearly half. "In northern New Hampshire, our heating season runs from September to May…. [The Greener Homes program] funds have been hugely important in allowing us to extend our rental assistance contracts and address a lot of risk we had in our portfolio." Along with the three properties that have already been retrofitted, AHEAD has performed energy audits at two other sites and is hopeful that additional funding will allow the organization to implement the recommended retrofits.
The Greener Homes program has provided much-needed capital to reduce energy-related operating costs and preserve affordable housing units across New Hampshire. The program has invested in energy efficiency and energy modernization in 5 percent of the state's assisted housing stock, saving more than $500,000 in operating costs. To date, 29 properties totaling 1,029 units have been upgraded and preserved as affordable housing for another 20 years. Several other properties have received energy audits and will be completed through the program as funding becomes available.