October 2012 |
Volume 1, Issue 5
IN THIS ISSUE:
Neighborhood Energy Challenge Spurs Investments in Efficiency
Mixed-Use Transit Village Leads Redevelopment Efforts
Arizona Study Suggests Dense, Mixed-Use Development Patterns Reduce VMT and Congestion
Grantee Spotlight: Planning for a Sustainable Michigan Street Corridor

---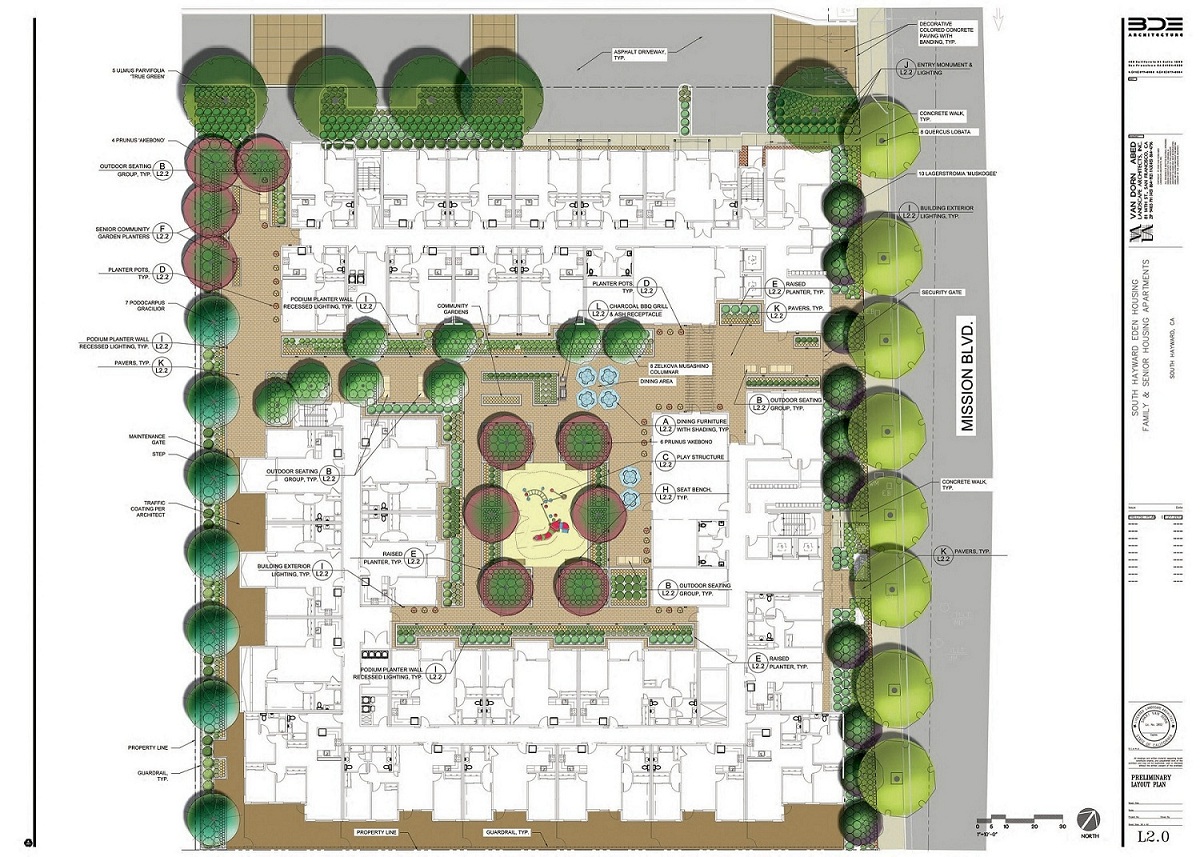 The Eden Housing affordable housing development plan; senior housing appears at the top of the drawing. Image courtesy of Eden Housing. For nearly a decade, the city of Hayward, California, has been working with multiple stakeholders to promote the redevelopment of 240 acres of land along the South Hayward Bay Area Rapid Transit (BART) station and Mission Boulevard, a major city thoroughfare. With some of the lowest ridership numbers in the BART system and an underutilized surface parking area, the South Hayward station was identified by the city and BART as an ideal location for transit-oriented projects. In 2006, the city adopted the South Hayward BART/Mission Boulevard Concept Plan, which called for the development of a mixed-use transit village on property immediately adjacent to the BART station. In 2009, the city approved a proposal by a team of nonprofit and private developers to transform the 12-acre property with high-density residential and retail space, shared amenities, structured parking, and improved pedestrian and bike access to transit facilities. Construction of the first phase of this project, which the city hopes will spur additional development along Mission Boulevard, is expected to begin in March 2013.
According to Linda Mandolini, president of California-based nonprofit Eden Housing (one of the developers), the 2009 proposal included about 800 housing units; 206 of these would have been affordable units; 206 of these would have been affordable units. The project was to be funded with $47 million in grant money from the state and a commitment of about $20 million from the Hayward Redevelopment Agency. When the state of California eliminated all local redevelopment agencies in 2011, the resulting loss of funding forced developers to scale back the South Hayward project. The current approved plan calls for 151 affordable units for seniors and families, developed by Eden Housing, and 206 market-rate units, developed by Wittek Development and former professional football player Joe Montana's Montana Properties.
The 151 housing units in the Eden Housing portion of the plan include 87 affordable 1- to 3-bedroom family units for households earning between 20 and 50 percent of area median income (AMI) and 64 units of 1- and 2-bedroom housing for seniors earning between 30 and 50 percent of AMI. For the project site overall, at least 2 percent of the units will be built specifically for people with hearing or vision impairments. The development is located on the site of a former automotive body shop/wrecking facility and a BART parking lot; a grocery store and a public park are also planned on adjacent parcels.
Transit-Oriented and Forward-Thinking Development
Once completed, the new housing development will offer convenient access to several Alameda County bus routes, connecting residents to commercial areas and employers. To encourage residents to use transit, Eden will provide them with free or heavily discounted transit passes. Mandolini says that the city of Hayward, anticipating that residents and staff will primarily use the BART system, has reduced the parking requirement for the site. In addition, construction of a cross-access sidewalk through the project site to the BART station will improve pedestrian access to the surrounding neighborhood. As a final nod to residents' transportation needs, the development will feature underground parking. BART and the city of Hayward are working together to mitigate the loss of commuter parking due to the redevelopment of the surface parking area, says Andrea Osgood, Eden's senior project developer.
Shared Amenities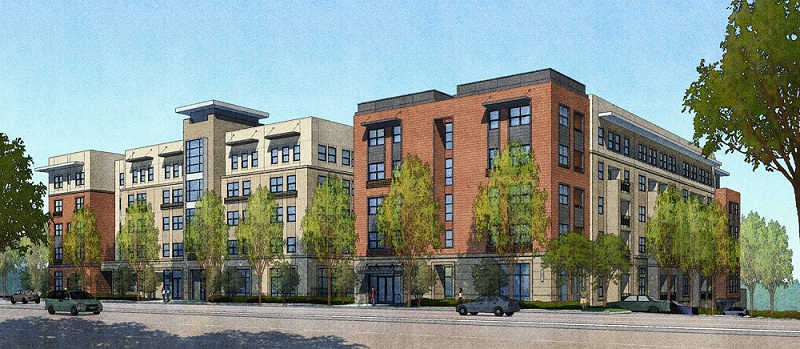 Rendering of the finished affordable housing development, with senior housing shown on the right. Image courtesy of Eden Housing. The affordable units will have their own interior common spaces but will share a courtyard with gardens and facilities for barbecuing. The project will also offer onsite programming, such as afterschool and summer programs, computer training, and training in financial management and home-buying, led in part by Eden staff living on the premises. Mandolini says that Eden often makes its onsite programming available to the neighborhood as a whole, including residents of the market-rate development. Although the program gives preference to Eden residents, she says, "we like to be a neighborhood service when we can."
Affordable Housing's Environmental Features
Eden will develop the affordable housing portion of the South Hayward project in accordance with the GreenPoint rating system, which measures a building's energy efficiency, indoor air quality, walkability and bikeability, level of water conservation, and amount of reused or recycled materials used in construction. The development will also accommodate solar panels for generating hot water and electricity and feature thicker walls and roof insulation to reduce energy use and associated costs. Perhaps most important, says Mandolini, is the project's proximity to the BART station. "You couldn't get more environmental than that," she says.