October 2012 |
Volume 1, Issue 5
IN THIS ISSUE:
Neighborhood Energy Challenge Spurs Investments in Efficiency
Mixed-Use Transit Village Leads Redevelopment Efforts
Arizona Study Suggests Dense, Mixed-Use Development Patterns Reduce VMT and Congestion
Grantee Spotlight: Planning for a Sustainable Michigan Street Corridor

---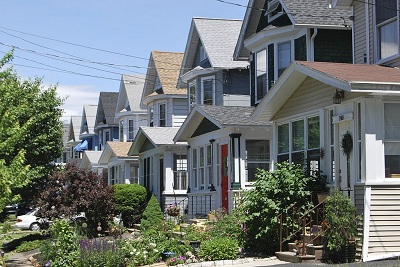 The Albany Energy challenge hopes to encourage energy efficiency through neighborhood competition. Image courtesy of Matt H. Wade, Wikimedia Commons. In 2005, the city of Albany, New York, made a commitment to sustainability when Mayor Gerald D. Jennings joined 140 mayors from across the United States to sign the U.S. Mayor's Climate Protection Agreement. The agreement, which now includes more than 1,000 mayors from across the United States, represents a commitment by local leaders to reduce greenhouse gas emissions below 1990 levels through investments in energy efficiency and clean technology, among other considerations. Since then, the city has taken important steps toward a more sustainable future, including a baseline inventory of greenhouse gas emissions throughout the city, the creation of the Mayor's Office of Energy and Sustainability, the development and ongoing implementation of an award-winning bicycle master plan, and the adoption of the City of Albany Energy Conservation Policy, which supports the goal of reducing energy consumption by 25 percent in municipal buildings by 2030.
The newest effort kicked off in spring 2012 when the city, in partnership with the Affordable Housing Partnership (AHP) and the Council of Albany Neighborhood Associations, expanded efforts to promote sustainability through the City of Albany Neighborhood Energy Challenge (Energy Challenge). The Energy Challenge program's goal is to increase the market for residential energy efficiency retrofits. Participating Albany neighborhoods compete against each other by tracking the number of home energy assessments they've performed over an 11-month period (April 2012 to March 2013). The neighborhood with the highest number of energy assessments performed on 1- to 4-unit homes (as a percentage of qualifying households) will receive city-financed public amenities such as bike racks, street trees, and other infrastructure improvements.
According to Eric Dahl of AHP, the Energy Challenge was made possible through the convergence of state legislation and local policy. The 2009 Green Jobs – Green New York Act expanded the New York State Energy Research and Development Authority's Home Performance with Energy Star program by offering free and discounted energy audits (based on household income eligibility) and enlisting local constituency-based organizations (CBOs) to provide outreach to potential customers. As a CBO, AHP partnered with the city's Office of Energy and Sustainability and the Council of Albany Neighborhood Associations to leverage the city's commitment to sustainability — as well as the civic pride of the city's neighborhood associations and their ability to engage residents — to promote the Home Performance with Energy Star program. In addition to helping residents finance and conduct home energy assessments, the Green Jobs-Green New York Act created a low-interest revolving loan fund that allows the capital costs of energy efficiency improvements to be financed directly by the savings from monthly utility bills (on-bill financing). On-bill financing further supports the efforts of the Energy Challenge to engage and educate residents about energy efficiency improvements.
Although still in its early stages, the Energy Challenge has garnered a positive response from Albany residents. Home energy assessments have been performed in seven of Albany's neighborhoods, and program sponsors believe that participation will increase once neighborhood associations resume regular fall meetings and residents look to reduce winter heating costs.