August 2015 |
Volume 3, Issue 3
IN THIS ISSUE:
Grantee Spotlight: Butler University: Education from Community Collaboration
USC's Commitment to South Los Angeles
Achieving Effective Governance: Examining the Evolution of an Anchor Institution
Nancy Zimpher: Striving to Make a Collective Impact

---
Grantee Spotlight: Butler University: Education from Community Collaboration
Butler University: Education from Community Collaboration
Since its founding in 1996, the Center for Citizenship and Community (CCC) at Butler University has built lasting partnerships with adjacent communities to address challenges in Indianapolis, Indiana. Combining university resources with community assets, CCC has engaged faculty and students in service learning opportunities that benefit both local residents and Butler University. A HUD Community Outreach Partnership Centers (COPC) grant and a subsequent COPC New Directions grant have allowed the organization to enhance its efforts to engage local stakeholders and encourage university students to become active civic participants. CCC's approach to service learning and community issues remains heavily influenced by the federal program's principles.
Building Capacity and Gaining Trust
Dr. Margaret Brabant, then the chair of Butler's political science department, founded CCC to foster collaboration between the university and the Indianapolis community. During CCC's early years, Brabant reached out to neighborhood residents, neighborhood association boards, city officials, and developers to build relationships in the belief "that an informed and active citizenry has the knowledge to manage for themselves the political, social, and economic factors affecting their neighborhoods and lives." Over time, CCC has formalized its efforts in service learning and other civic programs across the university's six colleges.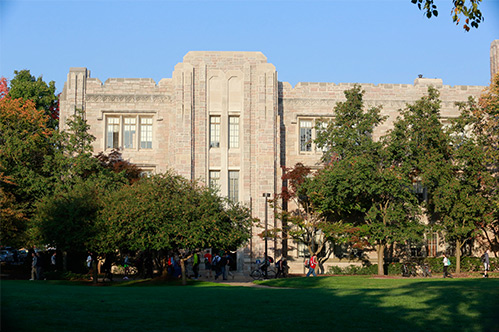 Butler University's Center for Citizenship and Community has built on experiences from COPC grant activities to administer the university's service learning requirement. Credit: Butler University
CCC used its first COPC grant to partner with the Butler-Tarkington Neighborhood Association (BTNA), which was active in maintaining the area's diversity, to identify and address community issues. Even though CCC had conducted extensive research and consulted with neighborhood leaders, public meetings were contentious because some residents were suspicious of the university's motives. Tensions subsided only after university representatives and residents built trust and strengthened relationships during conversations on a neighbor's porch. At these informal gatherings, community members voiced their opinions and concerns on equal footing with university officials, and CCC learned how Butler's resources could best support Butler-Tarkington's development. CCC also formed a community advisory board to focus on community interests and needs throughout the process.
The partners undertook 15 activities that addressed crime, deterioration of housing, economic development, land use, and education. These activities revealed key community assets such as the Children's Museum of Indianapolis, the Indianapolis Museum of Art, and various area churches that have been essential to successful educational and community development outcomes. The educational activities were particularly successful, some of which — including a science program through the Children's Museum of Indianapolis — continue today.
Building on its initial successes, Butler was able to strengthen existing community partnerships and establish new service programs outside of the Butler-Tarkington neighborhood after receiving a $150,000 COPC New Directions grant. Additionally, Brabant established the Community Fellows program within the university's Honors program, in which CCC — through its relationships with local leaders and practitioners — provided service learning opportunities to students.
Institutional Recognition and Expansion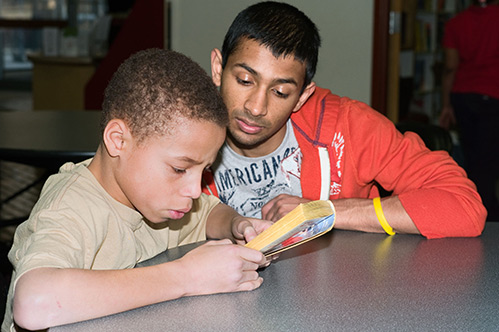 The COPC grants supported various community engagement activities including tutoring. Credit: Butler University
CCC continues to benefit from the experiences made possible through its two COPC grants. Butler-Tarkington resident Lucy Riegel suggests that these efforts have improved the university's relationship with local residents, stating, "I believe that Butler is now accepted as an active and supportive member of our BTNA neighborhood community. Butler recognizes the importance of neighborly relations with BTNA residents." According to Donald Braid, director of CCC, the institutional and community partnerships that were developed during the COPC activities have been maintained and continue to influence the center's work, even after some community leaders changed roles.
As a result of CCC's success in university and community collaboration, the philosophy of service learning has become ingrained in Butler's institutional structure. What began as a series of discussions and activities involving the university and the community has shaped the university's approach to teaching and community outreach. In 2010, Butler launched the Indianapolis Community Requirement (ICR) as part of the university's core curriculum; all students apply classroom knowledge in a semester of community service, providing resources that have allowed CCC to expand its community engagement efforts throughout the city. The broader institutional support has also helped garner endowment funding for CCC's operations and has fostered interdisciplinary collaboration on various research activities that would not have occurred within departmental silos. As a result of these efforts, Butler University earned the Carnegie Foundation's Community Engagement Classification in 2015.
Source:
Correspondence from Lucy Riegel, 15 April 2015; Interview with Margaret Brabant and Donald Braid, 31 March 2015.
×