August 2015 |
Volume 3, Issue 3
IN THIS ISSUE:
Grantee Spotlight: Butler University: Education from Community Collaboration
USC's Commitment to South Los Angeles
Achieving Effective Governance: Examining the Evolution of an Anchor Institution
Nancy Zimpher: Striving to Make a Collective Impact

---
USC's Commitment to South Los Angeles
In fall 2014, the University of Southern California (USC) broke ground on one of the largest developments in South Los Angeles and its most ambitious project since it first opened its doors in 1880. The mixed-use development, known as USC Village, combines university facilities and student housing with numerous amenities and resources on a 15-acre site on the northern edge of the school's University Park campus. Aspects of the $650 million investment are based on the wishes of local residents and businesses, further establishing the university as an anchor institution in South Los Angeles.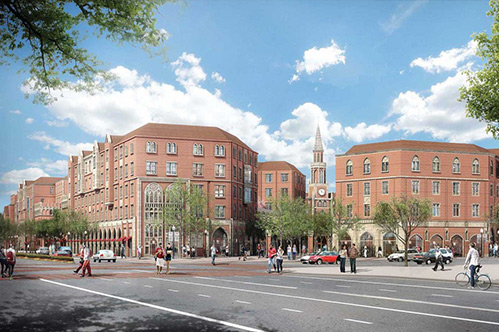 When complete, USC Village will provide student housing, academic facilities, and amenities for students and neighboring residents. Credit: USC
Growth Leads to University-Community Collaboration
A commuter school for much of its history, USC is widely recognized and respected as a major research institution. Drawing students from across the country and around the globe, the university's total enrollment has grown rapidly since the 1990s. These changes in the student population, along with a scarcity of university-owned student housing, have put pressure on the housing supply in the neighborhoods around the campus, historically home to many low- and moderate-income households. As a result, rising rents and access to quality affordable housing are primary concerns of neighborhood residents, according to the 2015 USC State of the Neighborhood Report; the report also describes unemployment and underemployment as significant barriers to housing security for residents.

The vision for USC Village emerged from a detailed community planning process. The lengthy and sometimes contentious process to approve the specific plan for the project gave community stakeholders multiple opportunities to shape the school's expansion while giving USC a predictable path for future development — something both university officials and community groups viewed as beneficial.
The specific plan calls for USC Village, when completed in 2017, to house approximately 2,700 undergraduate and graduate students. The village will replace a beleaguered shopping plaza with more than 100,000 square feet of retail and other commercial space, including a grocery store. Retail, dining, and other commercial spaces will be located on the ground floor of the new buildings, and student housing will occupy the buildings' upper floors. In total, USC Village will include approximately 1.25 million square feet. The development will also include two major paseos that allow pedestrian circulation through the site, connecting USC Village to the University Park campus and the adjacent neighborhoods.
Community Benefits Agreement
To address USC Village's impact on the surrounding neighborhood and ensure that members of the community will benefit from the project, the university and the city negotiated a community benefits agreement as part of the specific plan approval. Individual residents and community groups such as Strategic Actions for a Just Economy, Tenemos que Reclamar y Unidos Salvar La Tierra — South LA, and Esperanza Community Housing Corporation participated in the agreement. Addressing housing issues off-campus, the agreement includes USC's commitment to contribute up to $20 million to the city's affordable housing trust fund for housing in the surrounding neighborhoods.
The agreement also provides significant economic opportunities, with a goal of hiring local residents for 30 percent of the approximately 8,000 construction-related jobs and 4,000 permanent jobs that the project will create. In addition, the school has dedicated $300,000 to support workforce development programs for residents. To implement these efforts, the university is working with an economic development council that has representatives from the neighborhood groups that participated in the specific plan process. Joe Donlin, the economic development director for Strategic Actions for a Just Economy, is hopeful that the community benefits agreement will bring tangible economic benefits to neighborhood residents.
Another effort at inclusive economic development is the USC Family of Businesses program, which notifies small and minority-owned businesses of commercial opportunities arising from USC Village. The university is also providing direct financial and technical support to businesses displaced by redevelopment of the USC Village site. Craig Keys, associate senior vice president for community engagement for USC, notes that these efforts range from helping tenants locate new retail space in neighboring commercial corridors to adapting business plans to capitalize on the new demand generated by the thousands of students who will live in the village.
University staff and officials are optimistic that the student housing at USC Village will alleviate some of the pressure on the local housing market. However, they also recognize that development trends across Los Angeles are affecting the area. These trends, pushing north from USC and spilling south from downtown, are putting significant development pressure on neighborhoods near the university, explains Dr. Manuel Pastor, professor of sociology and American studies and ethnicity at USC and director of the university's Program for Environmental and Regional Equity. The school's investment in USC Village and the community benefit agreement, intended to expand housing, job, and business opportunities in nearby neighborhoods, could play a key role in ensuring that area residents benefit from these development trends.
Source:
University of Southern California, Office of Research. n.d. "About Us." Accessed 15 June 2015; Hortensia Amaro and Advancement Project. 2015. "USC State of the Neighborhood Report," 23. Accessed 1 May 2015;  Interview with Craig Keys, associate senior vice president for civic engagement, University of Southern California, 1 May 2015; Interview with Joe Donlin, economic development director, Strategic Actions for a Just Economy, 8 May 2015.
×
Source:
City Council of the City of Los Angeles. 2013. "University of Southern California University Park Campus Specific Plan." Accessed 1 May 2015; Interview with Craig Keys, associate senior vice president for civic engagement, University of Southern California, 1 May 2015; Interview with Joe Donlin, economic development director, Strategic Actions for a Just Economy, 8 May 2015; Eddie North-Hager. 2014. "USC kicks off construction of USC Village residential-retail hub," USC News, 15 September. Accessed 1 May 2015; University of Southern California. 2010. "USC Village: Proposed Project Overview." Accessed 1 May 2015; University of Southern California. 2015. "Joint Public Statement Regarding the Public Benefits Provided by the USC Specific Plan and Development Agreement," press release, 12 December. Accessed 1 May 2015.
×