August 2015 |
Volume 3, Issue 3
IN THIS ISSUE:
Grantee Spotlight: Butler University: Education from Community Collaboration
USC's Commitment to South Los Angeles
Achieving Effective Governance: Examining the Evolution of an Anchor Institution
Nancy Zimpher: Striving to Make a Collective Impact

---
Nancy Zimpher: Striving to Make a Collective Impact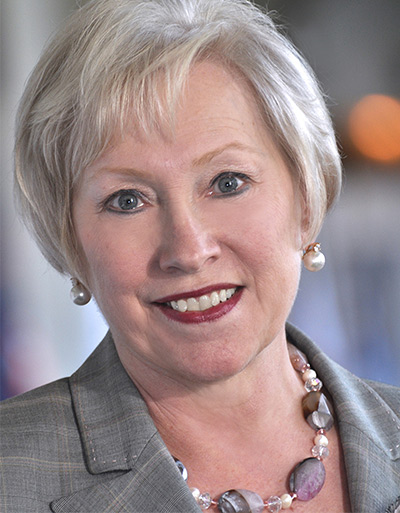 As a university leader, Nancy Zimpher has worked to connect universities to other community institutions and their surrounding communities to make a collective impact. Credit: State University of New York "Great cities need great universities, and great universities need great cities," says Nancy Zimpher, chancellor of the State University of New York (SUNY) system. Zimpher has supported this mission for anchor institutions throughout her career as a university leader, first as executive dean of the Professional Colleges and dean of the College of Education at The Ohio State University (OSU), then as chancellor of the University of Wisconsin-Milwaukee (UWM), and later as president of the University of Cincinnati (UC). Outside of her university roles, Zimpher has also advanced the anchor institution mission as board member for the Coalition of Urban Serving Universities and CEOs for Cities; in addition, she is a co-founder of StriveTogether and serves as the chair of its National Advisory Board.
Strategic Planning for University-Community Partnerships
Zimpher's vision of universities as anchor institutions is well documented in the university programs and strategic plans that she has helped create. Zimpher was introduced to university-community partnerships in the mid-1990s when she participated in the Campus Collaborative, OSU's effort to reach out to residents east of the High Street thoroughfare adjacent to the university's campus. This focus on connecting with the community around the university has stayed with her as she moved on to other leadership positions.
During her tenure as chancellor of UWM, Zimpher encouraged students, faculty, and staff to work with the community to build "a city and university that are the heart of metropolitan Milwaukee." To further that vision, she launched The Milwaukee Idea, which included initiatives to support local entrepreneurs, work with community schools and organizations, and promote personal and environmental health. As president of UC, Zimpher incorporated the mission of becoming an anchor institution into the university's strategic vision, UC|21: Defining the New Urban Research University. That vision contained several community-focused goals, including reforming area schools to create a seamless transition to post-secondary education, fostering residents' health, and providing opportunities for community members to serve in the university and university members to serve in the community. UC|21 also sought to establish the university's campus as a welcoming environment for students and the larger community by creating a sense of belonging and providing incentives for collaboration.
As chancellor of the SUNY system, which includes 64 colleges and universities that serve more than 465,000 students, Zimpher has an even greater opportunity to foster university participation in the community. Appointed chancellor in 2009 during the depths of the recession, Zimpher recognized that SUNY's campuses were critical to the economic viability of their surrounding communities. The strategic plan for the SUNY system, the Power of SUNY, features six interdependent areas of challenge and opportunity that address the state of New York's recovery from the recession and an enhanced quality of life for its citizens.
Although the national economy has improved since the plan's release, Zimpher states that each of the strategic plan's ideas remains important. One of the most crucial of those ideas is a seamless education pipeline, also referred to as a "cradle to career" initiative. "If our citizenry is educated, they will be healthier and more self-sufficient," notes Zimpher, who holds a doctorate in teacher education and higher education administration. She asserts that the SUNY system is focused on creating a seamless education for students by "improving the quality of teachers that we send into our school districts." In addition, SUNY is expanding its online courses to educate more individuals within the community who cannot attend onsite classes.
SUNY's strategic plan also emphasizes enhancing university students' educational opportunities through connections to the community. According to Zimpher, research indicates that students appreciate applied learning opportunities. SUNY is responding by offering its students alternatives to classroom courses through which they can contribute to their communities: service learning and volunteer programs; work experience opportunities, such as internships, cooperatives, and work/study programs; and inquiry and discovery experiences, including placement in a professor's laboratory or an entrepreneur incubator.
A Model for Other Universities
In a speech to the Association for Public and Land-Grant Universities in 2013, Zimpher highlighted how SUNY's strategic plan offers lessons for public and land grant universities nationwide. Zimpher specifically discussed how those universities can create a seamless education pipeline and expand educational opportunities for adults. According to Zimpher, place matters; even internationally ranked private universities are still based in a community and are affected by it. Although universities have to "think globally and support basic research," being an anchor institution requires addressing the surrounding community's "immediate and compelling challenges."
According to Zimpher, a university seeking to become an anchor institution must do more than simply include a mission statement in its strategic plan; it must also define the issues that need to be addressed, document baseline conditions within the community, create specific goals, and report to constituents about the impact of the strategies employed. "Making disciplined decisions, setting targets, and reporting on impact gets [universities] out of the highly generalizable [goal of] community engagement," notes Zimpher.
Through her experiences as a university leader, Zimpher has "moved beyond the concept of [a university] being an anchor institution to collective impact," in which universities work with other local institutions, stakeholders, and community leaders to address specific problems of mutual concern. The SUNY system's strategic plan is helping individual schools engage their communities and take collective impact efforts to scale, and Zimpher notes that, with its many campuses, SUNY is a "beta site for what we can do when we work across institutions for a universal impact." Through her participation with other academics, practitioners, and local educational and business leaders in StriveTogether, Zimpher is also working to create a collective impact across the country.
Source:
State University of New York. 2010. "the Power of SUNY: Strategic Plan — 2010 and Beyond." Accessed on 6 April 2015.
×