Volume 7 Number 2

February/March 2010
In this Issue
Returning Foreclosures to Productive Use with Land Bank

s
Preventing Foreclosures, One Community at a Time
Fighting Blight Pays in Philadelphia
Resilience Matters in Foreclosure Crisis
In the next issue of ResearchWorks
---
Returning Foreclosures to Productive Use with Land Bank

s


Millions of homes sit vacant as the foreclosure crisis continues to grip the nation. Vacant properties fall into disrepair and neglect and are eventually abandoned, creating a ripple effect that lowers adjacent property values and ultimately contributes to the decline of entire neighborhoods. A new report released by HUD's Office of Policy Development and Research, Revitalizing Foreclosed Properties with Land Banks, examines a strategy that-with the enactment of the Neighborhood Stabilization Program (NSP)-is quickly gaining momentum among those working to bring these properties back to productive use.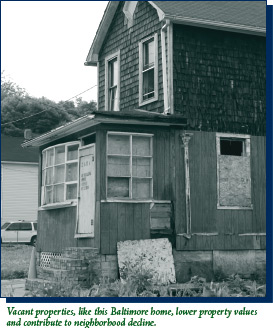 Land banks are governmental or nonprofit entities that acquire, hold, and manage foreclosed or abandoned properties. Enabled by state legislation and enacted by local ordinances, these legal entities acquire properties through tax foreclosure, intergovernmental transfers, nonprofit transfers, and open-market purchases. Tax foreclosures are the most common method of acquisition, in which tax foreclosed properties are sold at public auctions to recoup back taxes; properties that remain unsold are deeded to land banks. By exercising powers authorized by state and local statutes, such as the ability to waive taxes and clear titles, land banks can then help redevelop these properties.
Although land banks are an effective tool for stabilizing neighborhoods burdened with many vacant, abandoned, or foreclosed properties, communities can face a number of obstacles when executing land bank policies. First, acquiring foreclosures can be a lengthy and cumbersome process. Tax foreclosure proceedings vary from state to state and often require the involvement of several jurisdictions to obtain clear title. Second, municipalities often lack the experience to coordinate key stakeholders and achieve successful outcomes. In many cases, municipalities have the capacity to administer a land bank, but intergovernmental dichotomies inhibit regional goals. Another critical challenge is financing; allocating, renovating, and disposing of these properties can be costly. Diligent planning and proper funding mechanisms are needed to ensure that foreclosures are not acquired by speculators, but are instead put to productive use.
In the wake of the foreclosure crisis and significant budget shortfalls among state and local governments, Congress enacted the Neighborhood Stabilization Program, or NSP-a program authorized by the Housing and Economic Recovery Act (HERA). Under NSP, grantees may establish a land bank to purchase foreclosed or abandoned properties. Subsequent to HERA, Congress passed the American Recovery and Reinvestment Act (ARRA) in 2009 to help state and local governments and nonprofit organizations further pursue NSP activities-referred to as NSP2 under ARRA. In addition to property acquisition, NSP2 authorizes land banks to receive funds to cover operating costs.
Case Studies
With the inclusion of three land bank case studies, Revitalizing Foreclosed Properties with Land Banks demonstrates how communities have been adapting their policies and programs to meet long-term goals. Michigan's Genesee County Land Bank Authority is independently governed by a board of directors consisting of the county treasurer and residents of the city of Flint and Genesee County. Backed by state enabling legislation, the land bank acquires tax foreclosures and determines the best use for these properties with a long-term vision for the community in mind. The land bank renovates 25 to 50 abandoned and dilapidated houses annually and then sells or rents them at affordable rates to qualified tenants with an option to own.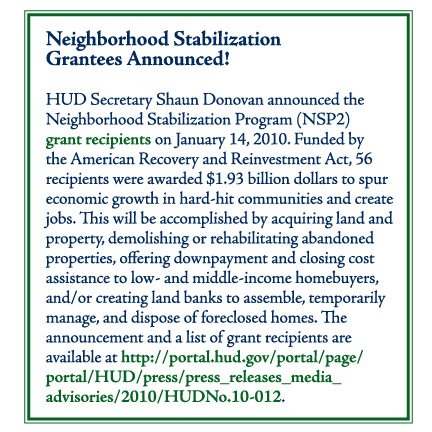 In 2008, the Maryland General Assembly passed Senate Bill 911, which empowers Baltimore City to create a land bank authority. This legislation creates an 11-member board of directors consisting of six city officials and five city council appointees to govern the nonprofit agency. To further the goals of the city's Project 5000-a program that acquired 5,000 vacant and abandoned properties-the proposed land bank is charged with adopting bylaws, rules, and regulations to return vacant properties to productive use. Upon approval, the quasi-governmental organization can acquire, manage, and sell city-owned property and procure services from other public or private entities to manage operations.
The Fulton County/City of Atlanta Land Bank Authority (LBA) has been instrumental in redeveloping declining neighborhoods and increasing the city's affordable housing supply. The LBA helps community development corporations (CDCs) acquire tax-delinquent properties with insurable titles at below-market prices for use in affordable housing development. A new policy introduced in 2008 allows the LBA to hold properties CDCs have purchased for 3 years and city- or county-owned properties for up to 5 years. The properties are not taxed while held by the land bank, reducing holding costs and lowering development costs for the CDCs and other nonprofit developers.
Getting Started
The report recommends that communities looking to create a land bank authority refer to a guidebook by Emory University professor Frank Alexander, Land Bank Authorities: A Guide for the Creation and Operation of Local Land Banks. In a recent discussion on www.HousingPolicy.org, Alexander noted that "The key initial step [to creating a land bank] is to evaluate why there is an inventory of vacant and abandoned properties, and what are the barriers to the property returning to productive use. Creating a land bank makes sense if and only if it is targeted to solving a specific problem."
Revitalizing Foreclosed Properties with Land Banks is available as a free download at www.huduser.gov/portal/publications/affhsg/landbanks.html or in print, free of charge, by calling HUD USER at 800.245.2691, option 1.