Volume 6 Number 6

June 2009
In this Issue
A Sustainability Framework Shapes the Future
Service Coordination Helps Low-Income Elderly Age in Place
Community Replicates Affordable Homes
Advancing Technology in Colonia Housing
In the next issue of ResearchWorks
---
A Sustainability Framework Shapes the Future
With a new Housing and Urban Development Secretary, a new administration, and support from HUD's Office of Policy Development and Research (PD&R), "sustainability" has become a new framework for addressing the challenges facing metropolitan areas. HUD's original charter, as codified in the Housing and Urban Development Act of 1965, addressed the nation's housing needs, but also placed them in the context of a larger vision of "assisting communities in developing solutions... and encouraging effective regional cooperation in the planning and conduct of community and metropolitan development."1
You may have noticed...


We have a new look! We've redesigned ResearchWorks to improve both readability and overall enjoyment of the news that affects our readers' personal and professional lives. As always, we'll continue to explore current housing research and how it is put into practice. We hope you enjoy the new format, and will consider sharing this issue with a colleague or friend.
This larger vision is especially relevant today. The current mortgage crisis, while first and foremost a housing crisis, can also be viewed in a broader regional and metropolitan context where existing patterns of growth have become increasingly unsustainable, both economically and environmentally. The residential sector and the built environment are major contributors to energy consumption and global warming; residential buildings now account for 20 percent of U.S. carbon emissions. The transportation sector accounts for another one-third of carbon emissions, in part because current development patterns have created a mismatch of housing and jobs that, without adequate transit systems, lead to long commutes and increased dependence on car travel. In response, and in keeping with the intent of the Act, HUD is shaping its vision to broaden and integrate initiatives in support of energy efficiency, green building, and sustainable development.
Going Greener
With technical and policy support from the Office of Policy Development and Research, HUD is taking a number of new approaches, beginning with the economic stimulus package enacted by Congress earlier this year. HUD has formed a partnership with the Department of Energy (DOE) to coordinate investment of some $16 billion in economic recovery funds allocated for energy efficiency and green building in housing. These funds provide a unique opportunity to accelerate deployment of energy-efficient and green building technologies, and at the same time, help create a highly qualified, highly trained, and high-performing workforce.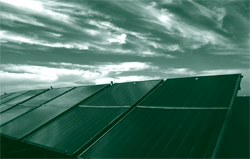 HUD's partnership with DOE is prompting the development of a common set of guidelines and specifications for retrofitting public housing, as well as privately owned, federally subsidized rental properties. These guidelines will assist the nation's 3,300 housing authorities in using Recovery Act funds to "go green" through sound energy-efficient building practices. The two agencies have also eliminated duplicative income verification requirements that will allow use of the DOE weatherization assistance funds in public and assisted housing.
In the broader housing market, HUD will work with DOE and the emerging home performance industry to establish a common baseline for measuring home energy use and the gains derived from efficiency improvements. HUD has also proposed a new Energy Innovation Fund in its Fiscal Year 2010 budget that will provide financing for energy efficiency in the residential sector. This will leverage private-sector (utility and other third-party) financing to stimulate the development of model residential energy-efficient retrofit initiatives in specific markets. The fund will support promising models initiated at the local level, and help expand them into additional markets. The fund will also support a variety of innovative financing programs being tested locally, such as utility bill financing or financing through local property tax bills.
In addition to supporting local energy funds, the Energy Innovation Fund will also re-engineer FHA's mortgage products, both in the single-family and multifamily sectors, to support energy-efficient and green lending. FHA has a current Energy Efficient Mortgage product that has had little traction in the marketplace, with no more than 1,000 such mortgages insured each year. By providing credit enhancements of various kinds, this product can be greatly expanded to enable homeowners to include energy-efficiency improvement as part of their purchase or refinancing transactions. HUD will also explore working with national home energy rating organizations to streamline energy audit procedures, and with an emerging home performance remodeling industry to ensure quality installation of recommended energy conservation measures.
Coordinating Housing and Transportation
The second area where HUD is promoting sustainability is in the areas of housing and transportation. The unbalanced nature of metropolitan housing development has strained urban and suburban household budgets as commutes have lengthened, and the combination of housing and transportation costs take an average of 60 percent of working families' income in metropolitan areas. Many families found that although they moved out to the exurbs to find affordable housing, their savings in housing costs were outweighed by high transportation costs. While there were many contributing factors, there is some evidence that high gasoline costs have been a contributing factor to high foreclosure rates in suburban communities.
HUD has teamed with the U.S. Department of Transportation (DOT) to look at housing and transportation in a coordinated, integrated way. HUD is proposing to strengthen regional housing, transportation, and land use planning through $100 million in regional planning grants that will enable metropolitan and rural areas to focus on regional housing and transportation solutions, develop a vision for growth, and use federal transportation, housing, and other investments in an integrated effort.
HUD also intends to "redefine housing affordability" with the development of affordability measures that will incorporate housing, transportation, and other costs that affect location choices. Although the cost of transportation now approaches or exceeds housing costs for many families, federal definitions of housing affordability fail to recognize the impact of transportation costs on homeowners and renters who live in areas isolated from work opportunities and transportation choices. HUD and DOT will engage in joint research, data collection, and outreach efforts with stakeholders to develop information platforms and analytic tools to track housing and transportation options and expenditures, establish standardized and efficient performance measures, and identify best practices.
With support from PD&R, HUD will explore ways to expand the availability of affordable housing near transit. In many communities, housing near transit tends to be costly, due to growing demand for housing that is accessible to public transportation. HUD will test a variety of strategies to reward the location of housing near transit facilities, both through its grant programs and through financing tools such as location-efficient mortgages.
HUD plans to implement this with a new Office of Sustainability; a set aside for research, evaluation, and demonstrations requested in the FY 2010 budget; and unprecedented testing of models that work. While land use issues must ultimately be managed locally, federal resources can play an important role in helping to shape local decisions. The toolkit of federal enterprises discussed in this article will provide a set of new resources with which communities can address climate change and other challenges at the local level.
1 Housing and Urban Development Act, Part XII, Organization and Administration of Department of Housing and Urban Development.