Volume 6 Number 6

June 2009
In this Issue
A Sustainability Framework Shapes the Future
Service Coordination Helps Low-Income Elderly Age in Place
Community Replicates Affordable Homes
Advancing Technology in Colonia Housing
In the next issue of ResearchWorks
---
Service Coordination Helps Low-Income Elderly Age in Place
When elderly people experience difficulty making everyday decisions and performing chores such as cooking and grocery shopping, it threatens their ability to live independently. In privately owned HUD-assisted multifamily properties, service coordinators help provide supportive services to low-income elderly residents and nonelderly residents with disabilities to facilitate aging in place. Recently, HUD's Office of Policy Development & Research released Multifamily Property Managers' Satisfaction with Service Coordination, a report that explores the role of the service coordinator, how the position is funded, a service coordinator's impact on resident quality of life, and the property manager's level of satisfaction with service coordination.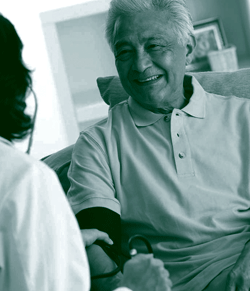 Service coordination in HUD-assisted housing was first authorized under the 1990 Cranston-Gonzalez National Affordable Housing Act. The program's goals include facilitating services to "prevent premature and inappropriate institutionalization" and improving property managers' ability to assess and meet the needs of eligible residents.
During 2007, in cooperation with HUD's Office of Housing, the Office of Policy Development and Research interviewed a random sample of 363 property managers at HUD-assisted multifamily housing developments serving low-income elderly and nonelderly residents. The survey included properties with (54%) and without (46%) service coordination programs to gauge program outcomes. Survey data were supplemented with an analysis of HUD's Tenant Rental Assistance Certification System, which tracks numbers of residents and vacant or occupied units at all multifamily developments with rental subsidy contracts.
Research Findings
HUD-funded service coordinators assist more than 348,000 low-income elderly and nonelderly people with disabilities at nearly 3,750 multifamily housing developments across the country. Service coordinators perform a range of functions to create an environment in which residents can live independently. Among their many duties, service coordinators assess resident needs, identify appropriate services in the community, link residents with needed services, and monitor the effectiveness of support services. Residents living in properties with a service coordination program receive approximately 30 minutes of service coordination per week.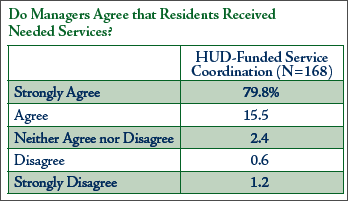 The property managers surveyed are highly satisfied with service coordination and perceive it as positively affecting residents' quality of life. Ninety-five percent of managers with HUD-funded service coordination programs and 86 percent of managers with non-HUD-funded programs believe that service coordination helps residents obtain needed services. Many property managers responded that service coordinators either enhance their job or make it easier, citing benefits such as reducing vacancies, helping with annual recertification of residents, and assisting with discharge of residents when higher levels of care become necessary. Some managers reported that they could better focus on property management because the service coordinator helps meet residents' needs for supportive services. Property managers also noted that program success depends on employing a knowledgeable service coordinator who actively engages residents, the property staff, and the community at large.
Properties with HUD-funded service coordination most often use their operating budgets to hire or contract with a social service staffer, who then organizes all necessary services. This approach allows for consistent year-to-year funding of the program. Other properties with HUD-funded programs use HUD's Service Coordinator Program or residual receipts from excess Section 8 rental subsidy or Section 236 developments to hire program staff. For the small number of properties (8%) providing service coordination that is not HUD-funded, resident programming is offered through another state or local government program, volunteers, or residents paying for service coordination independently.
Some locations do not provide service coordination. Properties that do not make this benefit available cite various reasons for this, including the fact that outside agencies fulfill this role so that residents have no need for service coordination. Based on open-ended responses, researchers observe that the lack of service coordination at some properties may result from managers not understanding how it helps facilitate aging in place.
Through targeted evaluation, assistance, and monitoring, service coordinators enhance the lives of those they serve and appear to lengthen the time residents are able to live independently in a familiar environment and community. Analysis shows that residents with access to service coordination reside at properties more than six months longer than do residents residing in properties without a service coordinator.
The report notes that aging in place reduces rates of premature institutionalization for low-income elderly residents, thus reducing the costs borne by taxpayers. The researchers caution that additional analysis would be necessary to quantify the program's costs and benefits more fully, including the potential cost savings.
Multifamily Property Managers' Satisfaction with Service Coordination can be downloaded free at www.huduser.gov/publications/hsgspec/serv_coord.html or ordered in print at a nominal cost by calling HUD USER at 800.245.2691, option 1.