Volume 6 Number 6

June 2009
In this Issue
A Sustainability Framework Shapes the Future
Service Coordination Helps Low-Income Elderly Age in Place
Community Replicates Affordable Homes
Advancing Technology in Colonia Housing
In the next issue of ResearchWorks
---
Community Replicates Affordable Homes
Schenectady, New York hopes to reverse an outflow of jobs, money, and residents resulting from a decades-long decline in business and economic prosperity. Its two major employers have left the area, and between 1990 and 2000, nearly six percent of its residents moved away from the city. During that period, the city's median household income fell 10 percent.1 Home to 5 historic districts and 14 national or state historic sites, Schenectady is involving the community in implementing its 2020 Comprehensive Plan, which seeks to expand growth while maintaining the city's character.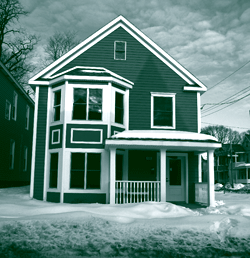 To help determine citywide and neighborhood goals, the city held three development workshops in each of its nine neighborhoods. Through these meetings, residents of two Schenectady communities — the Mont Pleasant neighborhood and the combined Hamilton Hill and Vale neighborhoods — made expanding their affordable housing stock a top priority. The median household income in Mont Pleasant in 2000 was $27,824, slightly less than the city's $29,378. Mont Pleasant is split nearly evenly between renter- and owner-occupied households, and approximately 40 percent faced a housing cost burden. In the combined Hamilton Hill and Vale neighborhoods, the 2000 median household income was only $16,645. Seventy-six percent of households were renters, many of whom (40%) faced a housing cost burden (as did more than one-fourth of the homeowners).
As an initial step to improve their affordable housing supply, these neighborhoods each feature a new home that was constructed on a city-owned lot where a blighted or abandoned home once stood. Developed by Better Neighborhoods, Inc., in conjunction with the city of Schenectady, the first home is an affordable, accessible, and green single-family unit in the Mont Pleasant neighborhood. This unit served as a prototype for two additional homes in the Hamilton Hill and Vale neighborhoods. These three infill homes — each 1,650 square feet with four bedrooms and two bathrooms — blend in with the surrounding historic architecture and are affordable to first-time homebuyers with incomes below 80 percent of the area median income.
In addition to being affordable, the houses feature various green components, including sustainable building materials (bamboo floors, recycled carpets, and recycled composite lumber). The Mont Pleasant house is fitted with solar panels and solar thermal collectors that produce heat and hot water. The solar panels are expected to reduce utility costs by generating 40 to 60 percent of the home's electric and hot water needs. Other components include a grey water system that uses wastewater to preheat cold water going into the hot water heater, PEX (cross-linked polyethylene) pipes, and water-saving plumbing fixtures (dual flush toilets and low-flow aerators). These features, in conjunction with ENERGY STAR® appliances, helped the homes achieve ENERGY STAR ratings and will reduce their overall energy requirements. The green components also won the Mont Pleasant home a Leadership in Energy and Environmental Design (LEED) platinum certification — a first for a residential home in the state of New York. The two other homes received LEED gold certifications.
The three units are universally designed, in that they feature fully accessible kitchens and bathrooms, wide doors and hallways, and extra space to move around. The kitchens include a wall-mounted oven, lower countertops, cabinets that pull down, an electric range with controls in front, and a side-by-side refrigerator. An adjustable mirror, a side-mounted medicine cabinet, grab bars, a roll-in shower, an accessible toilet, and a roll-under vanity complete each bathroom. A laundry chute from the second to first floor; color contrasting outlet faceplates; and outlets, light switches, and thermostat controls at accessible levels are also included in the three houses.
The funding process for these homes was somewhat complex. They were sold at a fair market value of $110,000, but subsidies reduced the mortgages to $85,000. In addition, multiple partners were needed to make them affordable, accessible, and green. Project partners included:
Nonprofit developer Better Neighborhoods, Inc.;
The city of Schenectady, which provided $553,715 in HOME funds;
The Community Land Trust of Schenectady, Inc., which holds the land in trust in perpetuity to ensure that the units remain affordable;
Architect and designer David Sadowsky and builder J. Luk Construction Company, LLC; and
Technical consultants Michael P. Stangl (home energy ratings) and Community Development Resources, LLC (grant writing).
In-kind services from nonprofit, for-profit, and governmental organizations were also needed to complete the Mont Pleasant prototype. A number of donors provided services worth $34,600, including the New York State Energy Research and Development Authority, Re-Tree Schenectady, Schenectady County Cornell Cooperative Extension, Capital/Saratoga Energy $mart Communities, a local senator, other area service providers and businesses, and youth and student volunteers.
This combination of a cohesive group of partners and in-kind donations produced a replicable, affordable, accessible, and green housing model in the Mont Pleasant home, as demonstrated by the two additional homes in the Hamilton Hill and Vale neighborhoods and the 10 additional units currently planned in Schenectady. The green features, affordability, and accessibility of this prototype won it the HUD Secretary's 2008 Best in American Living Award.
Additional details on these homes are available at www.cityofschenectady.com/press%20releases/HUDAwardRelease.pdf. Interested readers can find information on the HUD Secretary's Awards program by clicking on the following link: www.huduser.gov/research/secaward.html.
1 Citywide Plan: City of Schenectady Comprehensive Plan 2020, www.cityofschenectady.com/pdf/development/citywideplan_feb08.pdf.