February 2012 |
Volume 1, Issue 1
IN THIS ISSUE:
UC Davis Opens Doors to West Village, Aims to Be Largest Zero Net Energy Facility in U.S.
Philly Food Bucks: Philadelphia's Healthy Eating Program
Grantee Spotlight: The Tomorrow Plan of the Central Iowa Region
The Lofts at Reynoldstown Crossing

---
In August 2011, the University of California at Davis (UC Davis) welcomed the first residents of UC Davis West Village, a multi-use development that aspires to be the largest zero net energy community in the country. Zero Net Energy (ZNE) means that the community expects to generate the same amount of energy that it consumes. Occupying 130 acres of the UC Davis campus, West Village encompasses 42,500 square feet of commercial space, including a recreational and leasing center, in addition to providing housing for the 800 students who will inhabit the West Village apartments. When completed, the development will include energy research centers and the Sacramento City College campus, the first community college to be located on a University of California campus.
A Comprehensive Strategy for Sustainable Community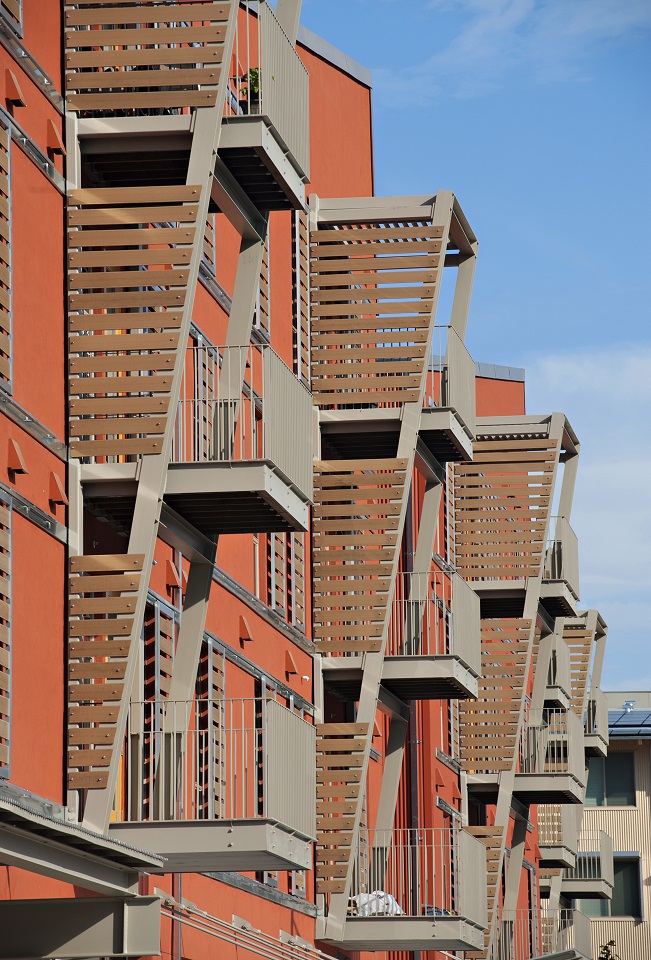 Back view of the Viridian apartments at UC Davis West Village. Credit: Photo by Karin Higgins/UC Davis, http://westvillage.ucdavis.edu/image-gallery
Environmental responsiveness is a central design principle of West Village. If built according to 2008 California Green Building Standards Code, a development similar to West Village would likely consume close to 23 million kilowatt-hours of energy per year. Aggressive conservation measures are expected to reduce the energy consumption at West Village by more than half, to 10 million kilowatt-hours per year (refer to table 1).
This reduction is made possible by various design features and applied technologies. Apartments feature oversized windows to take advantage of cross-breezes and natural lighting, sunshades to block sunlight on hot days, and water- and energy-saving appliances. Residents can use web-based controls to monitor and adjust their energy consumption. In addition, energy-saving technologies such as solar-reflective roofing, radiant barrier roof sheathing, increased wall insulation, and high-efficiency lighting fixtures, air conditioning systems, and appliances have been integrated into the design. "One of the unique things about this development," says Sid England, assistant vice chancellor for environmental stewardship, "is building at community scale rather than building by building." That kind of integrated planning enables the use of strategies such as as locating photovoltaic cells on shade structures (in this case, parking lots) in addition to building walls. Throughout the development, drought-friendly landscaping, water-saving appliances, and paints with low levels of volatile organic compounds will be used.
Although West Village has gained attention for the scale of its ZNE ambitions, the multiuse complex emphasizes sustainability in other ways. Despite its intensive planning and advanced technology, West Village offers student apartments with rents similar to those of traditional on-campus housing: $837 per month for an individual sharing a three-bedroom apartment compared with $900 per month for dormitory housing. In addition, the development features bike trails and bus hubs to promote low-impact living. West Village will also house the University's first incubator for sustainable innovation, uHub, which will facilitate public-private partnerships in energy research.
Public-Private Partnerships at Work
Public-private partnerships were key to both the planning and financing of West Village. Research institutions based at the university helped create West Village's ZNE strategy, while corporations such as Davis Energy and Chevron Energy Solutions conducted feasibility studies. SunPower, another corporate partner, designed and created the photovoltaic system that will generate power for the development's housing and retail space.
West Village Community Partnership, LLC (WVCP), a joint venture between the sustainable development firms Carmel Partners of San Francisco and Urban Villages of Denver, financed the $280 million needed for the first phase of construction (the second, final phase of development is not yet planned). Although UC Davis owns the land at West Village, WVCP holds a 65-year ground lease. WVCP officials estimate returns on the project by single-digit profit margins. UC Davis invested approximately $17 million in the project for utilities and road construction. The project also garnered $7.5 million in state and federal grants for sustainable growth.
Although it's still too early to tell whether this ambitious project will achieve its ZNE targets, this collaboration of public and private entities to design and finance a ZNE community should provide a model for future large-scale sustainable development projects.

Note: Estimates based on local building codes and energy saving projections. Source: Table 2, eec.ucdavis.edu/publications/2010aceeewestvillage.pdf.