February 2012 |
Volume 1, Issue 1
IN THIS ISSUE:
UC Davis Opens Doors to West Village, Aims to Be Largest Zero Net Energy Facility in U.S.
Philly Food Bucks: Philadelphia's Healthy Eating Program
Grantee Spotlight: The Tomorrow Plan of the Central Iowa Region
The Lofts at Reynoldstown Crossing

---
Whether offering a diminished risk of cardiovascular disease, reduced chance of stroke or diabetes, or even protection against some cancers, myriad studies have shown the benefits of eating fresh fruits and vegetables. Nevertheless, many Americans, and low-income households in particular, do not consume the recommended amounts of fruits or vegetables. Studies show that the high cost of fresh produce may be one reason low-income households do not meet the recommended guidelines; for instance, research from the U.S.D.A.'s Economic Research Service suggests that even a discount of 10 percent on fresh produce would cause low-income households to consume more fresh produce.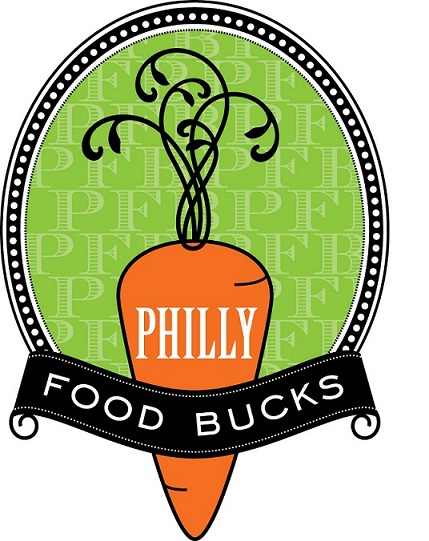 The Philly Food Bucks program encourages Supplemental Nutrition Assistance Program (SNAP) recipients in Philadelphia, PA to choose nutritious foods at 26 Food-Trust run farmer's markets. Credit: http://www.thefoodtrust.org
Inspired by Health Bucks, Philly Food Bucks, a pilot program launched in 2009 by the Philadelphia Department of Public Health in partnership with the local nonprofit The Food Trust and inspired by a similar program run by the New York City Department of Health and Mental Hygiene, puts this idea into practice. For every $5 in Supplemental Nutrition Assistance Program (SNAP) funds that recipients spend at farmers' markets, they earn $2 in Philly Food Bucks, which can only be used to buy fruits and vegetables at any of Philadelphia's 26 Food Trust-run farmers' markets. The program is part of the Philadelphia Department of Public Health's 2-year anti-obesity initiative, Get Healthy Philly, which is funded with $25.4 million from the U.S. Department of Health and Human Services and also includes initiatives in nutrition, education, and physical exercise. In 2010, the first year of the program, SNAP sales at farmers' markets more than doubled from $11,500 in 2009 to $29,140. As of July 2011, SNAP sales at the markets had increased by a whopping 179 percent over summer 2009, and according to Uy, by August 2011, SNAP sales at farmers' markets had surpassed the total for all of 2010. Although Philly Food Bucks had been slated to end in March 2012, public and private funds have been secured to continue the program for another year.
Advantages of Buying Food from Farmers' Markets
In addition to promoting a healthier lifestyle, farmers' markets also offer program participants good value for their money. Nicky Uy, Farmers' Market Program Manager at The Food Trust, says that farmers' markets' prices can be "very competitive" with grocery stores; when produce is in season, markets can even be cheaper than supermarkets. This claim is borne out by research such as a 2009 study at Seattle University that showed that 15 organic items, including Fuji apples, salad mix, and spinach, were less expensive at farmers' markets than grocery stores. Similarly, research by the Leopold Center for Sustainable Agriculture at Iowa State University showed that the average price per pound of locally grown vegetables at farmers' markets was $1.25, compared with an average of $1.39 per pound for nonlocal foods sold at conventional grocery stores. Uy also points out that farmers' markets typically offer fresher produce than supermarkets do. "The food at the farmers' market was either picked that day or the day before." As a result, "it tends to last longer, providing more value for your money." Farmers' markets also promote investment in existing communities and in the local economy, because participating farmers are all located within a two- to three-hour drive of the city.
New Farmers' Markets Offer Communities More than Access to Fresh Food
Expanding the reach of Philly Food Bucks and the farmers' markets has involved collaboration among diverse public and private agencies, including The Food Trust and the Horticultural Society. Since the program's inception, The Food Trust has opened 10 additional farmers' markets throughout Philadelphia, primarily in high-poverty neighborhoods with poor access to fresh food. Many of these new venues are intended to address other issues in addition to fresh food access.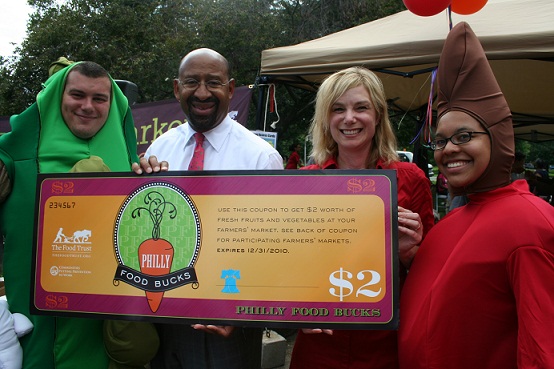 Philly Food Bucks program participants earn $2 in Philly Food Bucks for every $5 in SNAP funds they spend at farmers' markets. Credit: http://www.thefoodtrust.org
Two of the new farmers' markets are located near mass transit hubs: the Frankford Transportation Center in Northeast Philadelphia and the Olney Transportation Center, located in an area regarded as a food desert (defined by the Centers for Disease Control and Prevention as an area with poor access to the staples of a healthy diet: fruits, vegetables, whole grains, and low-fat milk). This effort is supported by the Southeastern Pennsylvania Transportation Authority, whose sustainability blueprint calls for creating three new farmers' markets in transportation centers by 2015. In recognition of this innovative transit program as well as the city's other sustainability efforts, the Natural Resources Defense Council recently recognized Philadelphia as one of the nation's seven "smarter cities." Another farmers' market in Hunting Park was opened as part of a project that links violence prevention with healthy eating and active living.
Distributing Philly Food Bucks provides yet another opportunity to partner with diverse stakeholders. The Food Trust holds outreach meetings with "groups who are working with SNAP-eligible folks so they can help us spread the word" about the program, says Uy. The nonprofit also works with health clinics, which Uy says is particularly effective. "Not only can clinicians say, 'There's a farmers' market near you, and here's $4 or $6 for coupons to help you get started,'" she says, "but also, 'Here's a recipe, here's what's in season, and here's how to get more with your shopping ACCESS card.'"